Bugatti Veyron Grand Sport Vitesse - full specs
Bugatti has unveiled the Veyron Grand Sport Vitesse at the Geneva Motor Show. Now, the manufacturer has released full details about the new convertible Grand Sport.
2012 Bugatti Grand Sport Vitesse is powered by an 8.0 liter W16 quad-turbo engine with mind blowing 1200HP (883 kW) and 1500Nm (1106 lb-ft) of torque. The engine is paired with a 7-speed DSG gearbox. It sends all that torque to an AWD system. 0-100 km/h in 2.6 seconds and to 200 km/h in 7.1 seconds, to 300 km/h in 16 seconds dead. The top speed is 410 km/h (254 mph).  ¼ mile is covered in 10.0 seconds flat and 1 mile in just 25.0 seconds.
Other interesting disciplines like 0-100-0 km/h take 5.9 seconds and 0-200-0 take 12.9 seconds. The interesting 0-300-0, which is brutal for the brakes take 23.9 seconds.
The official fuel consumption is 23.1 liters per 100 km on average cycle and the city cycle is around 37.2 liters per 100 km, so the owners will visit gas stations very often.
The overall weight of the vehicle is 1990 kg and the fuel tank can take up to 100 litres of fuel or around 250 km range in city.
The suspension features three different settings: Standard, Handling and Top Speed.
The brake system includes 400 mm front discs with 8 piston calipers and 380 mm discs at the rear with 6 piston calipers.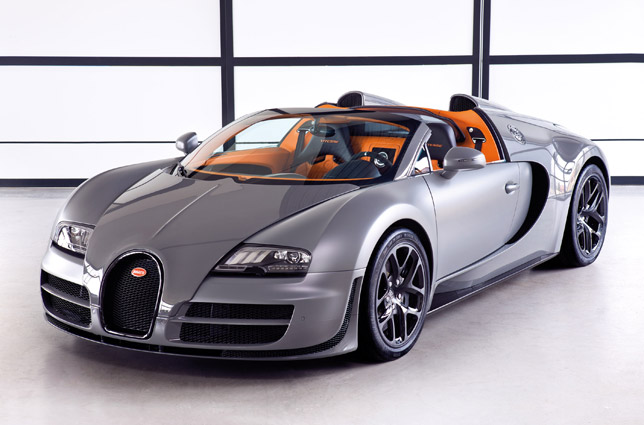 General
Length
4462 mm
Width
1998 mm
Height
1190 mm
Wheelbase
2710 mm
Curb weight
1 990 kg
Max. laden weight
2 240 kg
Tank capacity
100 l
Drivetrain
Engine
W16
Displacement
7993 cm3
Power output
1200HP (882 kW) at 6400RPM
Torque
1500Nm at 3000RPM
Bore
86
Stroke
86
Compression ratio
8.3:1
Gearbox
7-speed DSG
Drive
AWD
Power distribution
Front axle differential with Haldex
Clutch, rear axle with transverse
Differential lock
Suspension
Wheel suspension
Double wishbone front/rear
Max. weight per axle
1010/1230 front/rear kg
Tyres front
265-680 ZR 500A
Tyres rear
365-710 ZR 540A
Tyre pressure
3.0 bar front/rear
Suspension height
Standard – 115/155 mm, Handling 80/95 mm, Top speed 65/70 mm (front, rear)
Brakes
Brake disc diameter
400 mm / 380 mm (front, rear)
Brake disc material
Ceramics
Pistons per caliper
8 /6 (front, rear)
Brake pads
4 / 2 (front rear)
Performance
Top speed
410 km/h
Acceleration
0-100 km/h
2.6 seconds
0-200 km/h
7.1 seconds
0-300 km/h
16 seconds
¼ mile
10.0 seconds
1 mile
25.0 seconds
Lateral acceleration
1.4g
Braking distance
31.4 m 100-0
Acceleration and braking
0-100-0 km/h
5.9 seconds
0-200-0 km/h
12.9 seconds
0-300-0 km/h
23.9 seconds
0-100-0 mph
9.5 seconds
0-200-0 mph
27.1 seconds
Gearbox shift time
0.1 seconds
Fuel consumption
City cycle
37.2 l/100 with 867 g/km CO2
Highway cycle
14.9 l/100 with 348 g/lm CO2
Combine cycle
23.1 l/100 with 539 g/km CO2
Fuel type
Super lead free 98 RON/ ROZ
Max rate of gear at 6500RPM
1st
104 km/h
2nd
148 km/h
3td
197 km/h
4th
257 km/h
5th
313 km/h
6th
377 km/h
7th
410 km/h
Aerodynamics
CW-Value
Standard
0.39
Handling
0.48
Top speed
0.36
Airbrake
0.69
Wing/ spoiler angle
Standard
Retracted 6 cool-down position
Handling with rood/without roof
16 / 27, 21 / 27
Top speed
3
Brake setting
55 / 27
Special features
Central hyndraulics / double diffusor
Three suspension heights
Standard
For town traffic and speeds of up to 180 km/h. From 180 km/h,

automatic configurations switches from Standard to Handling

(flaps in front diffusers open)

Handling
For open roads and highways or manually selectable for race

tracks (flaps in front diffusers open)

Top speed
For very high-speed driving (over 375 km/h), manually

selectable with separate key (flaps in front diffusers closed)
Source: Bugatti