BRABUS B63 - 620 PowerXtra CGI
BRABUS has introduced a special performance package for the latest V8 bi-turbo engines of Mercedes-Benz. Depending on the model and the level of tuning, the engine can be boosted up to 620PS (455 kW) and 1000Nm (737 lb-ft) of torque. The performance package is avalable for the latest S and CL 500 ( US: S550 and CL550) as well as the S and CL 63 AMG models.
Furthermore, the tuning company now offers modified aerodynamic components made from carbon fiber, huge custom alloys of up to 21" and some exclusive interior options. All parts come with BRABUS Tuning Warranty of 3 years or 100 000km.
The performance package BRABUS B50 - 490 PowerXtra CGI for for S 500 and CL 500 costs EUR 4 900. The 4.7 liter bi-turbo V8 is boosted to 490PS (360 kW) and 780Nm (575 lb-ft), instead of the factory's 435PS (320 kW).
The BRABUS B50 – 520 PowerXtra CGI performance kit is available for EUR 5 900. It raises the power to 520PS (382 kW) and 820Nm (604 lb-ft). Equipped with this kit, both sedan and coupe reach a top speed of 300 km/h (188 mph) in combination with the BRABUS Vmax Unit.
BRABUS B63 – 584 PowerXtra CGI is available for the S 63 and CL 63 models. It is priced at EUR 5 900 and boosts the engine to 584PS.
The most powerful package is the BRABUSB63 – 620 PowerXtra CGI, which offers 620PS (455 kW) at 5500RPM and 1000Nm (737 lb-ft) available between 2250RPM and 3750RPM. 0 to 100 km/h in just 4.3 seconds and top speed of 320 km/h (199 mph).
BRABUS also offers sport exhaust system with exhaust flap control, which can be adjusted by the push of a button on the steering wheel. It comes with two ceramic-coated tailpipes.
Another performance part is a LSD (limited-slip differential) with a locking rate of up to 40 percent for the S 63 and CL 63 models.
The aerodynamic package includes front spoiler, carbon-fiber moldings for the gills in the sides of the front bumper. BRABUS aluminum sport fenders lend the car a decidedly dynamic appearance. Carbon-fiber diffuser with integrated reflector and the carbon-fiber rear spoiler.
There are also BRABUS Monoblock alloy wheels with diameters ranging from 19 to 21" for all Mercedes S- and CL-Class models.The rims are fitted with Pirelli or YOKOHAMA high-performance tires.
The interior can be upgraded according to the customer's taste and the oppotunities are almost unlimited.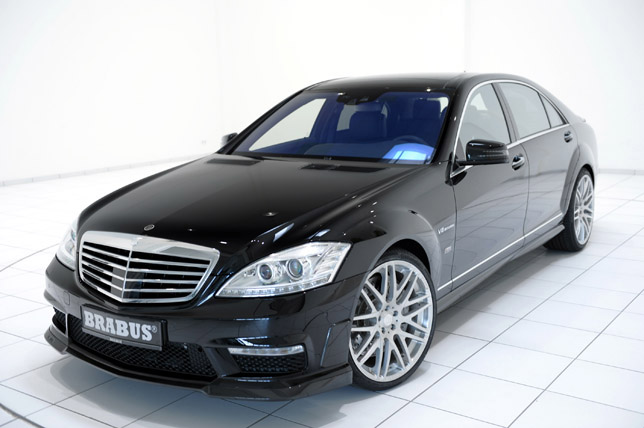 Source: Brabus