Brabus 800 Roadster - 800HP and 1420Nm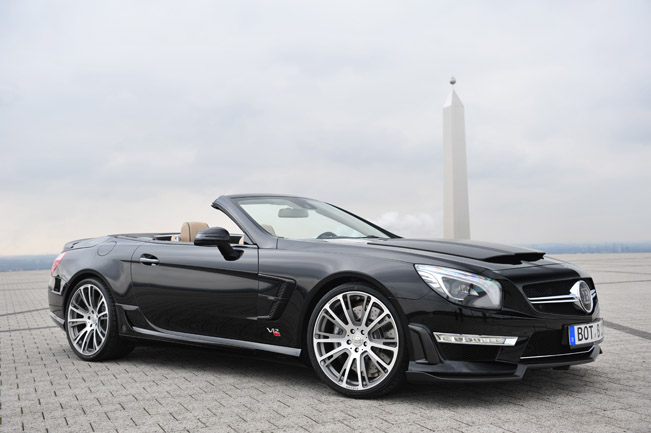 Brabus has introduced the stunning 800 Roadster, which is based on the new powerful SL 65 AMG. The 800 Roadster comes with both – styling and performance modifications. It will be exhibited at the 2013 Geneva Motor Show, next week.
The 6.0 liter AMG V12 bi-turbo is boosted to whopping 800HP (588 kW) and 1,420Nm (1,047 lb-ft) of torque. However, the torque is restricted to "just" 1,100Nm, because of possible transmission failure.
0-100 km/h in 3.7 seconds and a top speed of mind-blowing 350 km/h (217 mph). This is 0.3 seconds faster than normal variant and 100 km/h more in top speed.
The exterior boasts complete aerodynamics package, which has been developed in the wind tunnel. All components made of carbon fiber fit perfectly to the factory AMG package. They are finished in either matte or glossy finish matching body's color.
The 800 Roadster rolls 20" alloy wheels fitted with 255/30 ZR20 and 305/25 ZR20 (front/rear) high-performance tires. For maximum traction, Brabus can fit the car with a LSD (limited-slip differential).
BRABUS adds even more luxury and custom features to the two-seat interior upon request as well. The product portfolio ranges from scuff plates with backlit BRABUS logo and a speedometer with 360-km/h dial (220 mph) to carbon-fiber and wood trim sets in any color imaginable and with a variety of surface finishes.
The company upholstery shop crafts exquisite BRABUS interiors from especially soft yet durable BRABUS Mastik leather and Alcantara.
Source: Brabus