BRABUS Mercedes SLS AMG Roadster
Brabus has introduced their tuning program for the stylish SLS AMG Roadster.
The exclusive program comprises an aerodynamic-enhancement kit made from clear-coated carbon fiber, extremely lightweight BRABUS forged wheels with a comfortable sport suspension, engine tuning, a titanium high-performance exhaust system with electronic sound management, and a fully customized interior tailored to the owner's individual preferences in every last detail.
The body kit includes a new front spoiler attached to the production bumper, two BRABUS carbon-fiber covers for the upper air ducts, modified side skirts, newly designed air vents in the front fenders, BRABUS rear spoiler, side air vents for the rear fascia and BRABUS diffuser with custom-tailored cutouts for the four distinctive tailpipes of the BRABUS quad sport exhaust system.
The striking appearance is completed by a set of huge Brabus forged wheels - Monoblock F "Platinum Edition" cross-spoke in dimensions 9.5J x 20" with 275/30 ZR 20 for the front and 11J x 21" with and 295/25 ZR 21 tires for the rear. The performance tires are supplied by technology partners Continental, Pirelli or YOKOHAMA.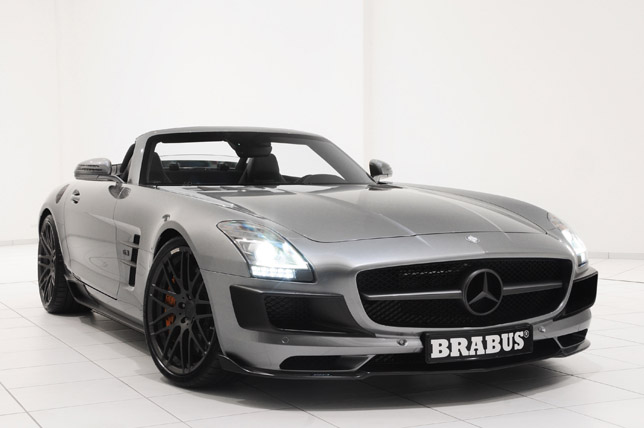 For superb handling and stance, the tuner has installed the BRABUS Ride Control smooth-ride suspension that was developed in cooperation with BILSTEIN. IT can lower the ride height up to 40mm. At the push of a button on the center console the driver can choose between damper settings that offer a more comfortable or sportier ride than the production car. The sport suspension and the production suspension can be upgraded with the BRABUS Front Lift System for added convenience. At the push of a button, a hydraulics system raises the front end of the roadster by 50 mm (2.0 inches) in just a couple of seconds.
The most powerful naturally aspirated V8 in the world – AMG's 6.2 liter is boosted from 571PS (420 kW) to 611PS (448 kW). The result is thanks to a performance kit consisting of newly calibrated engine electronics with special BRABUS mapping for ignition and injection, and the BRABUS high-performance exhaust system.
The interior can be customizer according to the owner's taste, but it also comes with a speedometer with 400-km/h (250-mph) dial, an ergonomically shaped sport steering wheel, stainless-steel scuff plates with backlit BRABUS logo and matte-anodized pedals.
There is no doubt, that Brabus SLS AMG Roadster is simply perfect.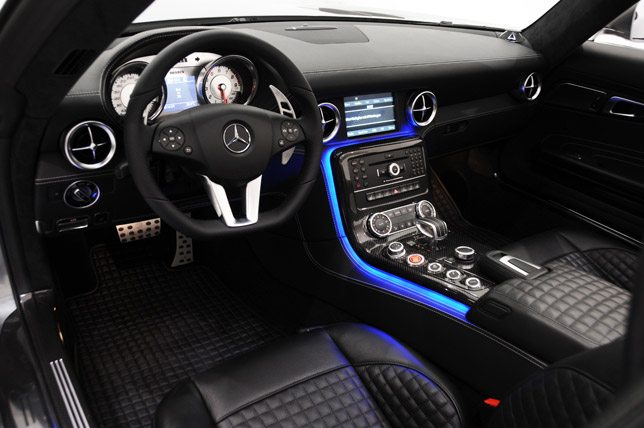 Source: Brabus