Audi's Cylinder-on-Demand Technology for A1 and A3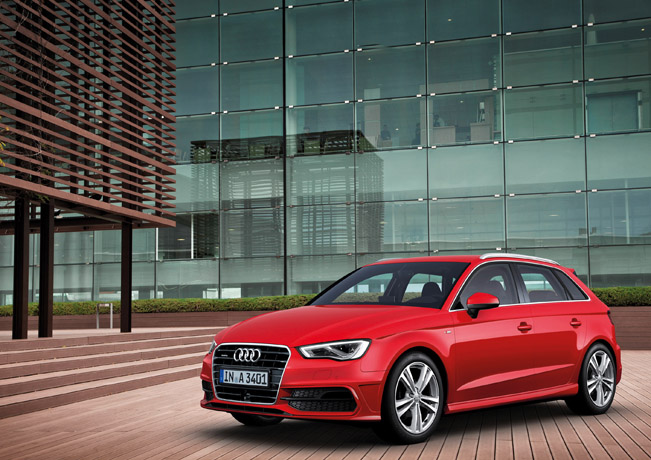 Audi is now offering the A1 and A3 1.4 liter TFSI engine with Cylinder-on-Demand technology. The manufacturer is moving CoD technology from Audi S and RS models to bring 60 mpg economy potential to A1 and A3.
The 1.4 liter TFSI has 140HP (103 kW) at 5,000RPM And 250Nm (184 lb-ft) at just 1,500RPM. 0-100 km/h in 7.9 seconds for A1 with S-tronic and 8.3 seconds for A3 with 6-speed manual. The top speed is 212 km/h (132 mph) for all models.
All versions of the A1 and A1 Sportback are equipped initially with the 7-speed S tronic twin-clutch transmission, and all versions of the A3 and A3 Sportback with a 6-speed manual gearbox. Both transmissions will however become available for all A1 and A3 CoD models later this year.
Audi A1 three-door can return 60.1 mpg UK – 4.7 liters / 100 km with CO2 emissions of 109 g/km, while the 5-door version will do 4.9 liters / 100 km and 113 g/km CO2.
The bigger A3 has the same fuel economy as A1 three-door, but A3 Sportback needs 4.8 liters / 100 km with 112 g/km of CO2.
The Cylinder-on-Demand technology doesn't only operate according to set parameters. Using information from the throttle pedal sensors, it determines how the driver is driving, and if it detects an irregular pattern, for instance over a series of roundabouts or on a twisting A-road, it inhibits cylinder deactivation because here it would generally only be of short duration and wouldn't save any fuel.  Two-cylinder operation is also disengaged if the driver brakes, enabling all four cylinders to support braking when coasting, and if the car is travelling downhill.
Check out the price list, below!
| | |
| --- | --- |
| A1 1.4 TFSI 140PS CoD UK Pricing | |
| 1.4 TFSI 140PS Sport (manual) | £16,740 OTR |
| 1.4 TFSI 140PS Sport (S tronic) | £18,190 OTR |
| 1.4 TFSI 140PS S line (manual) | £18,285 OTR |
| 1.4 TFSI 140PS S line (S tronic) | £19,735 OTR |
| 1.4 TFSI 140PS Black Edition (manual) | £19,535 OTR |
| 1.4 TFSI 140PS Black Edition (S tronic) | £20,985 OTR |
| | |
| A1 Sportback 1.4 TFSI 140PS CoD | |
| 1.4 TFSI 140PS Sport (manual) | £17,360 OTR |
| 1.4 TFSI 140PS Sport (S tronic) | £18,810 OTR |
| 1.4 TFSI 140PS S line (manual) | £18,905 OTR |
| 1.4 TFSI 140PS S line (S tronic) | £20,355 OTR |
| 1.4 TFSI 140PS Black Edition (manual) | £20,155 OTR |
| 1.4 TFSI 140PS Black Edition (S tronic) | £21,605 OTR |
| | |
| A3 1.4 TFSI 140PS CoD UK Pricing | |
| 1.4 TFSI 140PS SE (manual) | £20,055 OTR |
| 1.4 TFSI 140PS Sport (manual) | £21,280 OTR |
| 1.4 TFSI 140PS S line (manual) | £23,430 OTR |
| | |
| A3 Sportback 1.4 TFSI 140PS CoD | |
| 1.4 TFSI 140PS SE (manual) | £20,675 OTR |
| 1.4 TFSI 140PS Sport (manual) | £21,900 OTR |
| 1.4 TFSI 140PS S line (manual) | £24,050 OTR |
Source: Audi