Aston Martin Cygnet - birthday present
Sir Stirling Moss has made a very nice present to his wife - Lady Moss. The culmination of six months planning and "secret" correspondence between Sir Stirling and Aston Martin to plan a surprise birthday present for Lady Moss.
"My greatest partner in everything that I do, Susie is an amazing person and frankly the best wife a man could have. Since seeing a pre-production Cygnet in January I knew that it was the perfect car for Susie; a proper little piece of British luxury and perfect for our life in town.", commented Sir Stirling Moss.
Aston Martin Cygnet shares much in terms of design and craftsmanship with the company's sports cars. It is of course hand-crafted at Aston Martin's headquarters in Gaydon, taking 150 hours to complete. Furthermore, specifications for Lady Moss's car include Sir Stirling's choice of Aston Martin Racing Green, harking back to the company's sports cars that Sir Stirling raced in the 1950s, as the paint colour. This iconic exterior has been complemented by a simple and elegant interior hand crafted in Obsidian Black leather with a contrasting coarse silver stitch, forming a typically understated combination.
Sir Stirling's own driving career with Aston Martin saw him drive a number of the company's racing cars including the famous DB3S and DBR1 models with great success. This culminated in being part of the factory team that in 1959 secured the company the World Sportscar Championship following victories in the DBR1 at such prestigious races as the Le Mans 24-hour.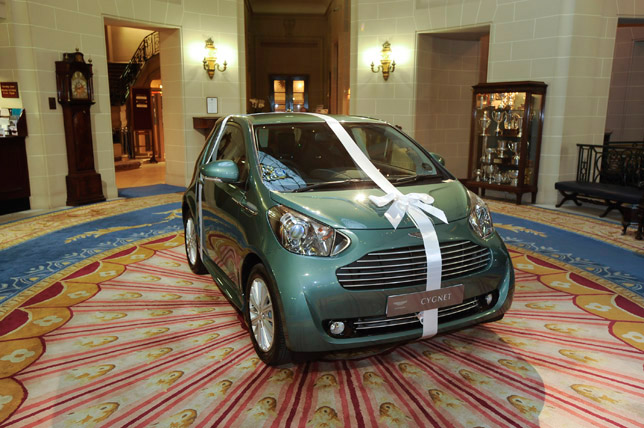 Source: Aston Martin