Two new Offers from Aston Martin and Bang & Olufsen
Aston Martin and Bang & Olufsen are proud to introduce two new bespoke audio systems – Bang & Olufsen BeoSound V12 Vantage and Bang & Olufsen BeoSound V8 Vantage - developed and designed exclusively as an option for the Aston Martin V12 Vantage and V8 Vantage sports cars, the latter being available in both Coupe and Roadster variant. The two new audio systems mark another chapter in the acclaimed collaboration between the two brands, which began with the BeoSound DBS in 2008.
The BeoSound V12 Vantage and BeoSound V8 Vantage systems were developed exclusively for Aston Martin to be perfectly matched to the respective car models, both acoustically and physically. The design of the sound systems follows the inherent quality and understated elegance of the cars' hand-crafted interior, with smoothly contoured, aluminium loudspeaker grilles that integrate seamlessly into the fluid lines and curves of the cabin.
Similar to the critically acclaimed sibling - the BeoSound DBS – both systems incorporate proprietary ICEpower® technology, and the motorised tweeter units demonstrate Bang & Olufsen's patented and automatically operated ALT (Acoustic Lens Technology), with their placement enabling 180° horizontal dispersion of high frequency sounds, giving listeners an improved sense of space, staging and realism regardless of their position in the car. And like the BeoSound DBS, the BeoSound V8 Vantage fitted to the Vantage Roadster has been developed to suit the different acoustic characteristics of the convertible, whether open or closed.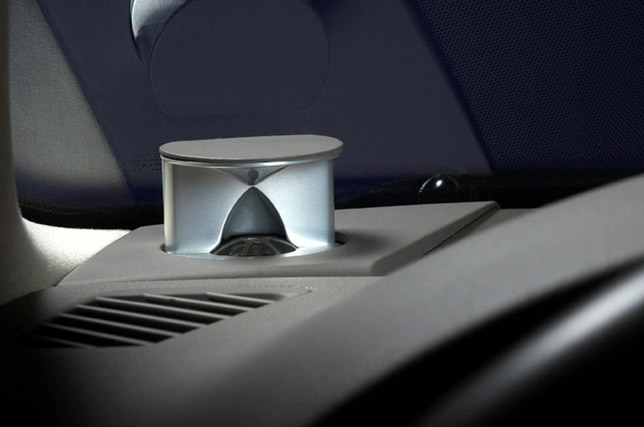 In total, the systems each consist of 13 active loudspeakers, which are positioned in ten locations around the car, offering a total output of more than 1000 W.
The Aston Martin Vantage product line represents true high-performance sports cars. Taut and aggressive, the design is rich in detail yet never over-complicated. Engineered for performance and precision, the cars encourage complete synthesis between driver and machine. The V8 Vantage also comes in Roadster variant which builds on the acclaimed design of the Coupe to create a highly desirable convertible.
These characteristics also apply to the Bang & Olufsen audio systems, whose root in company values such as passion and performance as well as design and craftsmanship, makes for another perfect match between two companies with an uncompromising commitment to quality and style, and the courage to go far beyond the conventional.
The BeoSound V12 Vantage and the BeoSound V8 Vantage sound systems are available as an option through the Aston Martin dealership network with deliveries commencing in quarter three 2009.