Aston Martin V12 Vantage GT3
What happens, when you put 600BHP V12 engine in 1250kg car? The answer is very simple – it happens something really good and nice to drive and in this case to watch.
Aston Martin V12 Vantage GT3 is not only extremely fast race car, but it is incredibly beautiful, too. The tests of the vehicle has just began and the racing team has already covered almost 1000 kilometres in just two days. The majority of the mileage was conducted by factory driver Darren Turner.
"The car ran like clockwork throughout and we've managed really good mileage already. The feeling of the V12 Vantage GT3 is a massive step forward from the DBRS9. Being based on the smaller Vantage it is more responsive and feels more nimble, giving the driver plenty of confidence to extract all the performance from the V12 engine while also being light on its tyres. It isn't too physical to drive and I didn't even break into a sweat during the test!", said mr. Turner, after two days behind the wheel.
"With the clean styling and the amazing sounding V12, it's closer to the core values of Aston Martin's road cars than any of the racing cars we've ever built. I'm certain it'll become a favourite among motorsport fans in no time at all.", he added.
The V12 Vantage GT3 is a direct replacement for the Aston Martin DBRS9, which first competed in 2006 and went on to score many race and championship wins including the 2007 British GT Championship and the 2009 FIA GT3 Teams' Championship.
The engine is the most staggering element in the V12 Vantage GT3. It is 6.0 liter twelve-cylinder naturally aspirated monster with 600BHP (445 kW) and 700Nm (517 lb-ft) of torque. All that power is sent to the limited slip differential at the rear wheels through Xtrac 6-speed sequential transmission.
Aston Martin Racing will continue with the V12 Vantage GT3's comprehensive testing programme into the New Year and beyond.
You can check the full specs, below!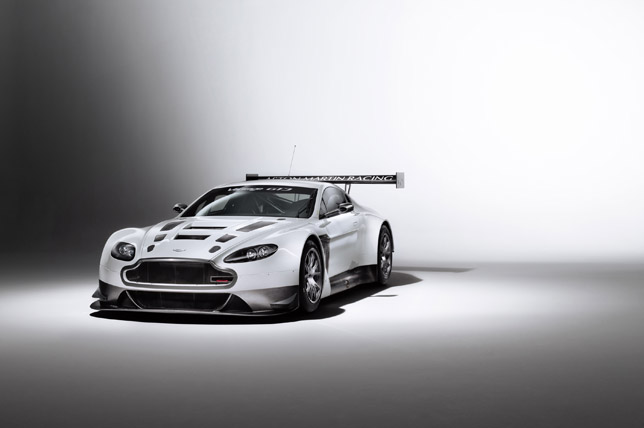 Aston Martin V12 Vantage GT3 Specs:
Engine

Lightweight V12 Dry sump oil system Power >600bhp Torque >700Nm
Transmission

Xtrac 6 speed sequential transmission with semi-auto gear change Limited slip ramp/plate differential Carbon fibre propshaft
Chassis

Lightweight aluminium chassis Steel roll cage to FIA safety standards High speed pneumatic jack system
Suspension

Double wishbone with uniball bearings 2-way adjustable dampers front and rear Optimised geometry for lower race ride height
Steering

Hydraulic power assisted steering
Fuel system

110-litre fuel cell to FIA safety standards Twin quick release couplings
Brakes

6 pot front & 4 pot rear calipers with ventilated steel discs Manually adjustable front/rear brake bias Adjustable motorsport ABS and traction control
Wheels & Tyres

Front 12.5" x 18"        30/68-18 Rear  13" x 18"            31/71-18
Cockpit

Six-point safety harness Adjustable seat & pedal box position Lightweight battery Carbon fibre dash Fire extinguisher system Driver display and shift lights
Body & Aero

Removable carbon-fibre body panels & aluminium roof Front splitter Adjustable full width carbon fibre rear wing Aerodynamically optimised bumpers, side sills and rear fenders
Source: Aston Martin