Alonso and Massa's Ferrari Way of Skiing
The F1 championship is a demanding, treacherous challenge. For mere preparation, drivers spend weeks in training by submitting themselves to stress which comes in both forms – physical and psychological. So when it comes to blowing off some steam with recreation, Fernando Alonso and Felipe Massa decide to add more stress. The slaloms at the Madonna di Campiglio resort are used to having champions skiing over them but yesterday something was different. There were two Ferrari FF''s lined at the track's starting point with Alonso and Massa behind the wheels. What followed was a heated, downhill parallel race between  two of the world's best F1 drivers which ended up in a tie.
So why the, four door FF'? Well, on paper the FF is pretty much ideal for the job: it has a 4WD traction system that sends carefully calculated amounts of torque to each wheel independently and its weight balance is good thanks to the front-mid engine layout and the transmission at the back. Besides, were the cars anything other than Ferraris it would have been a bit embarrassing.
Alonso could not hide his enthusiasm: "It's incredible how easy it is to drive the FF even on a such a demanding surface and at the same time, how high a performance level you can reach in it." Massa was of a similar opinion: "the most incredible thing about the car is the fact there is no need to compromise maximum performance and useability, whatever the driving environment," reckoned the Brazilian. "And on top of that, it's perfect for everyday use with the whole family in the car."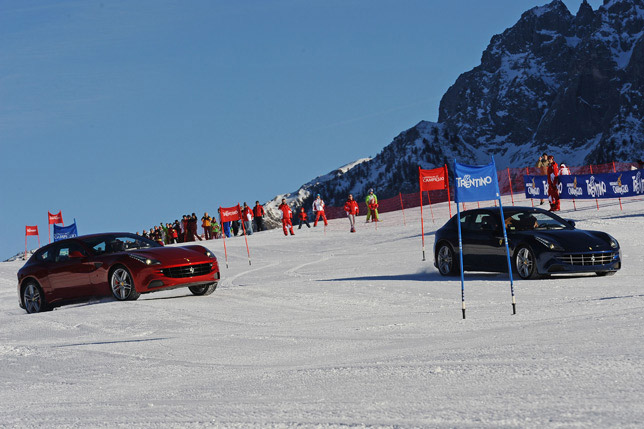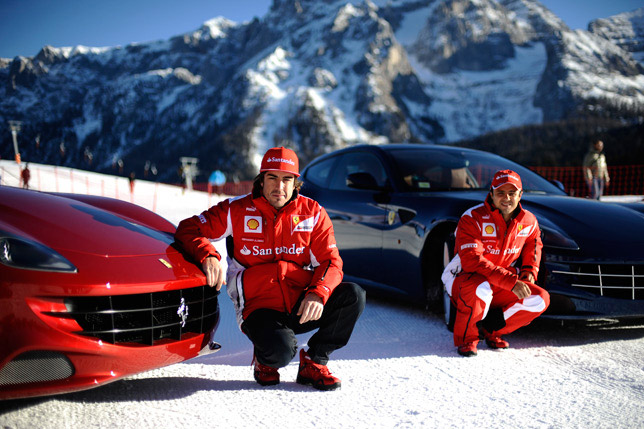 Source: Ferrari