Yaris HSD - Small Outside Big Inside
With the introduction of the Yaris Hybrid, B-segment car fans will now be able to enjoy the low emission, refined Toyota Hybrid Synergy Drive® (HSD). It's a small packed piece of engineering that offers no compromises in terms of driving experience.
The powertrain is a full hybrid composition consisting of a petrol engine and an electric motor with an end power output of 100 DIN hp. It is an engine that offers clients class leading CO2, NOx and particulate emissions, minimal fuel consumption and low cost of overall running costs.
Downsizing of various components gives the Yaris more efficiency agility and space. (Small Outside, Big Inside are the principles of the Yaris). The 1.5 liter Atkinson Cycle petrol engine in the Yaris, is 16.5 kg lighter and 10% more compact than the 1.8-litre unit found in the Auris Hybrid. The electric motor, the Power Control Unit (PCU) and the transaxle have also been put on a diet resulting in 20% more compactness for the electric motor, 12% less volume for the PCU in comparison with the Auris Hybrid. The transaxle is shorter by 6% and lighter by 11 kg.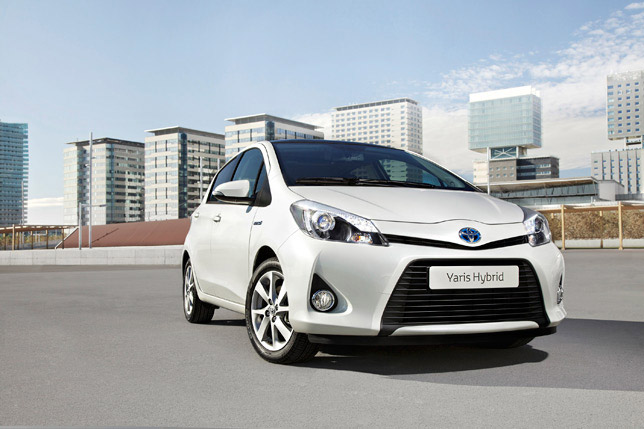 Design also plays a role in the overall hybrid experience in the Yaris. The Nickel Metal Hydride battery and fuel tank have been placed under the rear seats so that there is no need to sacrifice passenger space or cargo area. The Yaris is all about looking like an everyday ordinary car and performing like the ultimate, extraordinary fuel saving machine.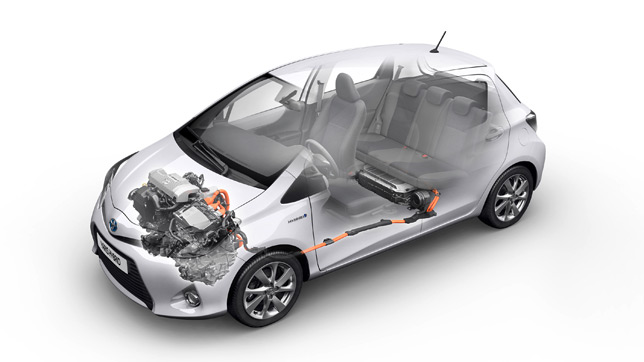 Source: Toyota