Vorsteiner McLaren MP4-VX Revealed [VIDEO]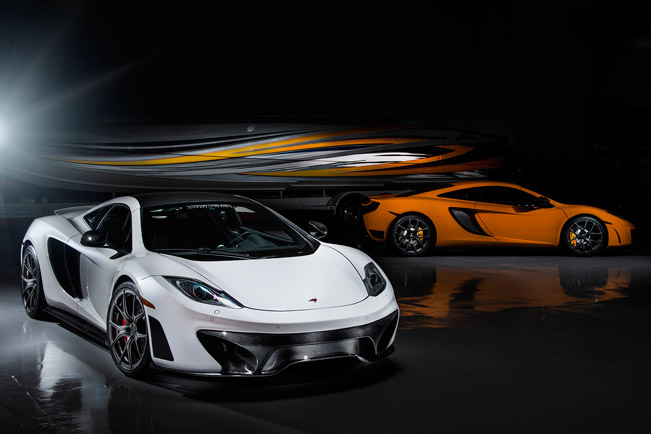 The latest tuning project by Vorsteiner is on the exceptional McLaren MP4. It has been teased in the beginning of June and it now takes full manifestation. In order to stay true to the iconic design of McLaren, the tuners kept as many of the MP4 body lines.
Nevertheless, they enhanced the original design and gave the car more edgy and aggressive appearance. Furthermore, they also paid attention to vehicle's everyday driveability and functionality of each body part, thus optimizing the ground clearance of this supersports car while at the same time enhancing the overall aerodynamics and appearance.
In addition Vorsteiner McLaren MP4-VX is also equipped with one-piece aluminum forged wheel, which were specifically engineered for the weight of the car. This helped in terms of weight savings because they could be maximized during the CNC milling process without any compromises in safety.
To be more precise, the vehicle is fitted with wheels in size of 20x9J and 21x12J for the front and the rear respectively, and matched with tires in dimensions 245/25/20 and 325/30/21.
Vorsteiner's MP4-VX program is comprised of Carbon Fiber Front Bumper with dual air duct system and side ventilation louvers, Carbon Fiber Add-On Front Spoiler, Carbon Fiber Rear Bumper with dual ventilation louvers and central vent opening, Carbon Fiber Rear Diffuser with integrated Dual Diffuser Tunnels, Four Piece Carbon Fiber Side Skirt blade with floating front fin element.
To begin with the front of the car, one can see that it has a completely new nose made entirely of dry carbon fiber pre-preg autoclave technology. The front end is made of a full replacement bumper cover with redesigned air ducting system, side vent elements and a separate front spoiler. They serve in terms of enhancing the downforce.
However, the main visual highlights in this tuning are the replaced carbon fiber rear bumper cover and rear diffuser element. The optical carbon fiber rear bumper also includes two ventilation louvers on the side and one in the center, thus helping the heat dissipation from the engine and exhaust.
What is more, the new carbon and kevlar reinforced composite rear diffuser also has race inspired tunnels which additionally improve the airflow and keep the rear end planted against the road surface.
At last, Vorsteiner McLaren MP4-VX has received improved airflow dynamics with four-piece carbon fiber side blade elements. This results in the lower and more aggressive stance of the vehicle, while at the same time it also improves the downforce at high speeds.
Video Source: YouTube
Source: Vorsteiner