Volvo V60 Plug-in Hybrid
Volvo will make first tests of the new V60 Plug-in Hybrid in Berlin. The vehicle combines advanced technology with luxury design. The first official road test drive with the unique Volvo V60 Plug-in Hybrid will take place at the 11th Michelin Challenge Bibendum in Berlin - 18-22 May 2011.
The Volvo V60 Plug-in Hybrid, the Volvo C30 Electric and the Volvo V50 DRIVe featured in Berlin are three examples of Volvo Car Corporation's uncompromising attitude to green motoring.
"In order to get true car enthusiasts to think green, you have to offer them the opportunity to drive with low carbon dioxide emissions without taking away the adrenaline rush that promotes genuine driving pleasure," commented Peter Mertens, Senior Vice President Research and Development at Volvo Car Corporation.
"Since the Michelin Challenge Bibendum drives include acceleration and handling tests as well as energy efficient driving, we expect that our cars will do very well. All of them are just as well equipped, comfortable, sporty and safe as all Volvo models.", he added.
V60 Plug-in Hybrid is powered by a five-cylinder 2.4-litre turbodiesel with 215PS and 400Nm. In addition, there is a 70PS electric motor, which receives power from a 12 kWh lithium-ion battery pack.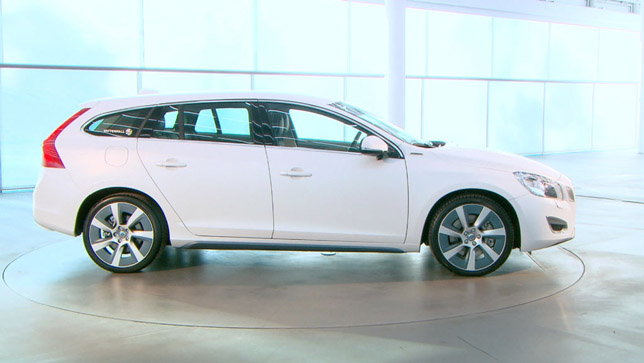 In Pure mode the car runs only on its electric motor as much as possible. The driving range is up to 32 miles.
In the default Hybrid mode the diesel engine and electric motor interact to provide the optimal balance between driving pleasure and low environmental impact. Emissions of CO2 (NEDC) are 49 g/km, corresponding to diesel fuel consumption of 150 mpg. The car's total range is up to 746 miles.
In Power mode the technology is optimised to give the car the best possible performance. The diesel engine and electric motor have a combined power output 215 + 70 horsepower and maximum torque of 440 + 200 Nm.
Source: Volvo