Volvo Compares 855 T5-R and V60 Polestar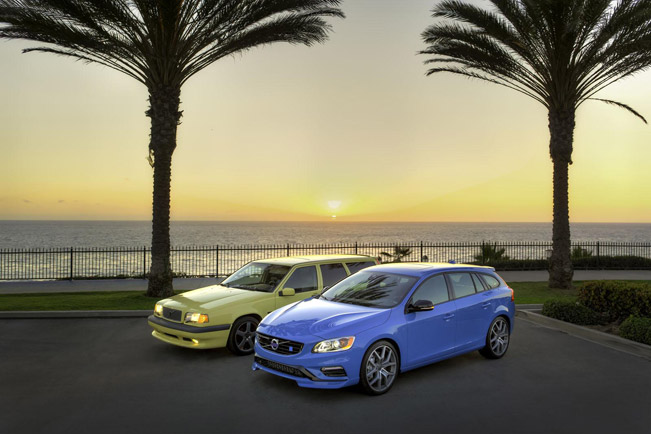 Volvo 855 T5-R was officially unveiled 20 years ago, in 1994. The car was dedicated to performance and in fact was the first estate model from Volvo. To celebrate this anniversary, Polestar brought 855 T5-R together with its current heir: the mighty Volvo V60 Polestar, at the Huntington Beach in California. 855 T5-R featured a five-cylinder turbo-charged R5 2319 engine, which was capable of producing 240 hp (176 kW) and 330 Nm (244 lb-ft). The unit was coupled with a four-speed auto gearbox and featured a front-wheel drive.
The 0-100 km/h acceleration sprint was covered by it in 7.0 seconds. The deceleration from 100 to 0 km/h happened in 45 meters, thanks to the front brakes including 1 piston calipers and 280 mm discs. The top speed of the car was 245 km/h.
The chassis was specifically developed, thus making the car one of the fastest estate models of its time and an iconic performance vehicle. Suspension here included MacPherson Strut, Coil Springs, Hydraulic Shock Absorbers and Stabilizer Bar. Alloys were 17 inch and were fitted with 205/45 tyres.
Unlike the 855 T5-R, which weighs 1600 kg, Volvo V60 Polestar is much heavier: 1834 kg. Another difference includes a R6 2953 cc engine, which is capable of a way more powerful output of 350 hp (257 kW) and 500 Nm (369 lb-ft). The unit is coupled with a six-speed auto transmission and features a 4-wheel dirve.
Of course, the acceleration is faster with 2.1 seconds, while the deceleration is shorter with 11 meters, thanks to the 6 piston calipers and 371 mm discs. The top speed f the car is 250 km/h. In the suspension is featured again the MacPherson Strut and Coil Springs, but adds Polestar Öhlins Shock Absorbers and Carbon Fibre Clad Stabilizer Bar. The rims here are 20 inch and the tyres – in the dimension of 245/35.
Source: Volvo