Volvo Polestar S60 and V60 Revealed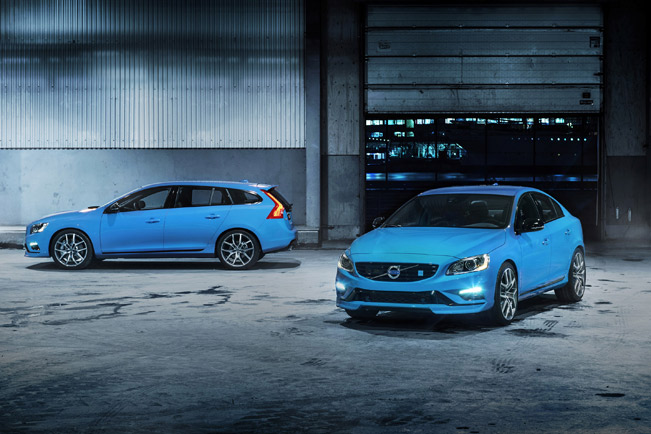 They are here! The new (ice) cool Volvo S60 and V60 Polestar machines that is. These two crowd-pleasers have drawn inspiration from the C30 and S60 Concept cars and the Australian S60 Polestar and are to mark "the start of an extended Polestar production model range." Yes please.
So what are these for?
Not a fan of the M3? Go for the underdog then; or for that slightly bigger underdog, the V60. The point is, there will always be some appeal in the non-mainstream.
Are they any good though?
Of course they are. Well, not 444 hp (BMW M3) good, but still packing a punch.Keep in mind that we are talking about a T6 (six-cylinder) engine that still puts out 350 hp at 5700 rpm and the amazing 500 Nm of torque at barely 2800 rpm. That power is sent to all fours through the Polestar developed Haldex all-wheel drive system and the six-speed automatic gearbox. No wording on anything with a stick, just paddle shifts. As a result the Polestars propel themselves from 0 to 62 mph in just 4.9 seconds and have a limited top speed of 155 mph
It's not just sheer grunt though. The Polestar boffins have worked on the chassis, making the springs 80% stiffer than the standard ones on the S60 R-Design. Inside of them, they have slid high-performance Öhlins shock absorbers to cope with the stresses. A highlight of handling are also the front 371 mm brake disks with six-piston Brembo calipers on them. Minor aerodynamic tweaking has also been at play when developing the Polestar S/V 60 (as the teaser suggested). The ones with the most keen eyes will notice the subtle front splitter, the rear spoiler and the diffusor at the lower end.
Here's a list that bares it all:
Full Technical Specification
Performance
0-62 mph 4.9 sec
0-124 mph 17.7 sec
Top speed 155 mph – Electronically limited
Chassis
Polestar Öhlins shock absorber system
Polestar bespoke rims, 8x20" ET53 with 245/35R20 tyres
Engine
6-cylinder inline T6 engine, 2953 cc
350 hp @ 5700 rpm
500 Nm (369 lb-ft) @ 2800-4750 rpm
Max 6500 rpm
New twin-scroll Borg Warner turbo
New intercooler
Polestar 2.5" stainless full-flow exhaust system with twin 3.5" tail pipes
Weight
V60 Polestar: 1822 kg
Transmission
AWF21 automatic gearbox with paddle shift system
Polestar transmission calibration for faster gearshifts, launch control and curve-hold functionality
Polestar Haldex calibration for more rear torque dynamic distribution
Polestar calibrated stability control system
Brakes
Front: Polestar/Brembo 6 piston brake calipers
371x32 mm ventilated and floating Brembo discs
Rear: 302x22 mm ventilated discs
Source: Volvo