Vilner Aprilia Stingray Adds 13 New Details

As it comes for Vilner the number thirteen seems to be rather a lucky one. The successful interior tuning specialists have now made an exceptional transformation on the Aprilia Stingray by adding to it brand new thirteen details.
And as one can see from the pictures, there is nothing similar with the original model, which in fact was the initial aim of the team. Vilner Aprilia Stingray now looks more exquisite than ever with its aggressive and futuristic stance.
The exceptional new visual appearance of this motorbike is a result of a work with great precision and attention to the tiniest detail. First of all, the Aprilia was equipped with brand new front fender, which was especially designed for the model.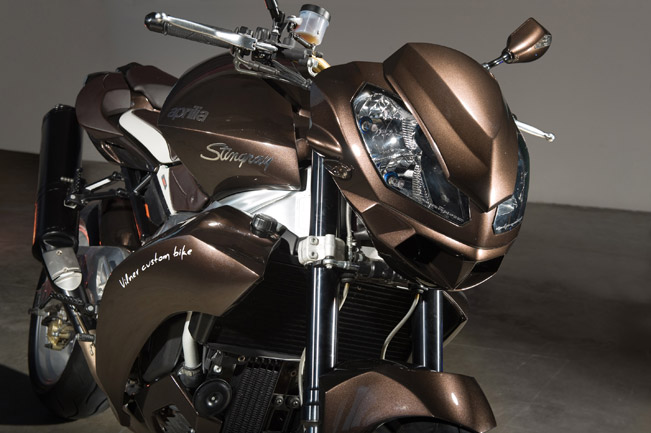 Next, the headlight was modified with two new details: helmet and air-ducts, while the side front signals were mounted on it. They are also new and more importantly – all LED. The transformation doesn't stop here. Two entirely new side spoilers with two vents each, serve as a means to lead away the hot air coming out from the engine.
In addition, onto the Bugspoile there have been added two pyramid-shaped details that enhance the aggressive presence of the Aprilia. To make it even more masculine and powerful, the tuning specialists from Vilner have also added three new details on the reservoir.
What is more, both right and left plastics were wrapped with the finest leather. From there one can see a light gray strip starting, which ends at the front part of the seat. To the rear part of the latter were added two new details made of brown leather.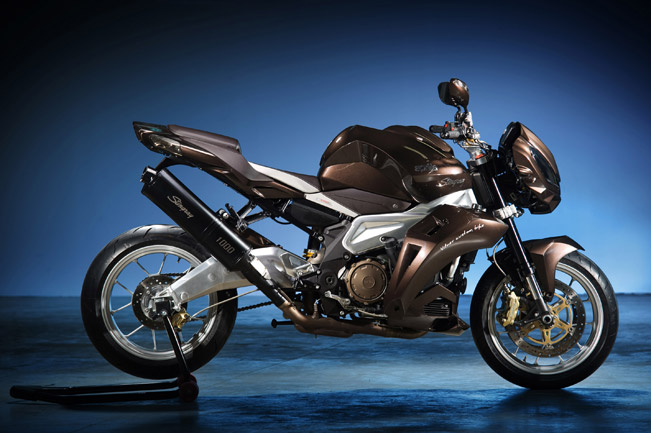 Proceeding further to the rear of this breath-taking motorcycle, it must be mentioned that the rear lights were tinted in order to match the overall design philosophy of the tuning. Moreover, part of the frame is painted in Black Matt which contributes to the visual separation of the front and rear part. What is also completely new is the stand for the registration number, which was mounted a little bit more inward.
Furthermore, this completely transformed Aprilia, comes with two exhausts that were repainted in black. The aim of this modification was to make them fade away at the most. Additionally, the rear fork and the chain were extended by 15 centimeters and here is where Vilner gathered forces with Galaxy Custom.
At last but not least, the bike as well as the wheels was entirely repainted, so that it can look absolutely outrageous. The power of the Vilner Aprilia Stingray is enhanced by 10 per cent thus making this project complete and part of the Vilner Custom Bike projects.
Photographer: Stefan Solakov
Model: Carolina Bratanova