2014 Toyota Auris Gets Icon Plus Grade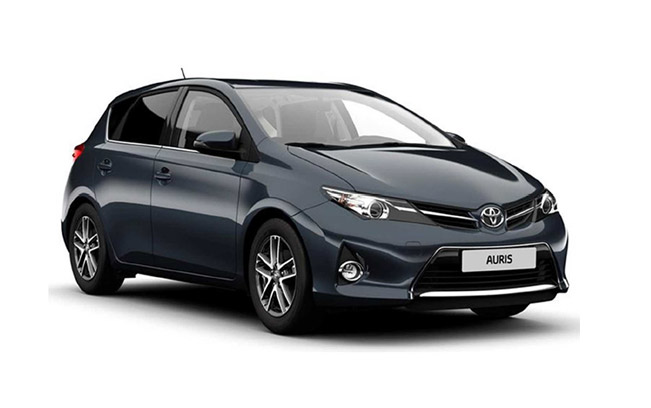 2014 Toyota Auris Icon Plus is one of the revised trim grades which will add to the current Auris range additional equipment features. Under refinement are both hatchback and Touring Sports wagon models. The new Icon Plus grade includes rear privacy glass, retracting door mirrors and heated front sports seats. In addition, the Auris Hybrid now can be ordered in three trim levels - Icon, Icon Plus and Excel. An innovation is the introduction of Toyota Touch 2 with Go touchscreen multimedia and navigation control system throughout the range.
Precisely, the Icon Plus grade builds on the established Auris Icon specification. It adds over it freshly designed 16-inch alloy wheels, rear privacy glass and a folding function for the electrically adjustable door mirrors. Furthermore, the exterior of this Icon Plus will also benefit from the Tungsten Blue metallic paint finish.
The interior of the new grade includes heated sports front seats with electric lumbar support control, cruise control on the petrol and hybrid models as well as improved Toyota Touch 2 with Go multimedia and navigation package.
Furthermore, the Icon Plus grade will be available also for the Auris Hybrid hatchback and Touring Sports, next to the Icon and Excel trims. Additional features include leather upholstery for the seats, centre armrest and door panels. It is offered in black with either white or blue contrast stitching.
On the other hand the available Parking Pack (Icon, Icon Plus) provides color-matched front and rear parking sensors, while the Protection Pack adds front and rear mud flaps, scuff plate, a boot liner and a bumper protection plate.The third optional pack is the Chrome Pack that adds chrome side sills and boot trim.
2014 Toyota Auris Model Range:
| | | |
| --- | --- | --- |
| GRADE | BODY | ENGINE & TRANSMISSION |
| Active | 5dr hatchback | 1.33 VVT-i 6MT |
| Active | Touring Sports | 1.33 VVT-i 6MT |
| Active | 5dr hatchback | 1.4 D-4D 6MT |
| Active | Touring Sports | 1.4 D-4D 6MT |
| Icon | 5dr hatchback | 1.33 VVT-I 6MT |
| Icon | Touring Sports | 1.33 VVT-I 6MT |
| Icon | 5dr hatchback | 1.4 D-4D 6MT |
| Icon | Touring Sports | 1.4 D-4D 6MT |
| Icon | 5dr hatchback | 1.6 Valvematic 6MT |
| Icon | Touring Sports | 1.6 Valvematic 6MT |
| Icon | 5dr hatchback | 1.6 Valvematic Multidrive S |
| Icon | Touring Sports | 1.6 Valvematic Multidrive S |
| Icon | 5dr hatchback | Hybrid Synergy Drive E-CVT |
| Icon | Touring Sports | Hybrid Synergy Drive E-CVT |
| Icon Plus | 5dr hatchback | 1.33 VVT-I 6MT |
| Icon Plus | Touring Sports | 1.33 VVT-I 6MT |
| Icon Plus | 5dr hatchback | 1.4 D-4D 6MT |
| Icon Plus | Touring Sports | 1.4 D-4D 6MT |
| Icon Plus | 5dr hatchback | 1.6 Valvematic 6MT |
| Icon Plus | Touring Sports | 1.6 Valvematic 6MT |
| Icon Plus | 5dr hatchback | 1.6 Valvematic Multidrive S |
| Icon Plus | Touring Sports | 1.6 Valvematic Multidrive S |
| Icon Plus | 5dr hatchback | Hybrid Synergy Drive 1.8 VVTi E-CVT |
| Icon Plus | Touring Sports | Hybrid Synergy Drive 1.8 VVTi E-CVT |
| Excel | 5dr hatchback | 1.4 D-4D 6MT |
| Excel | Touring Sports | 1.4 D-4D 6MT |
| Excel | 5dr hatchback | 1.6 Valvematic 6MT |
| Excel | Touring Sports | 1.6 Valvematic 6MT |
| Excel | 5dr hatchback | 1.6 Valvematic Multidrive S |
| Excel | Touring Sports | 1.6 Valvematic Multidrive S |
| Excel | 5dr hatchback | Hybrid Synergy Drive 1.8 VVTi E-CVT |
| Excel | Touring Sports | Hybrid Synergy Drive 1.8 VVTi E-CVT |
Source: Toyota