The Sapphire Black convertible Volvo C70 has reached its 50 000 owner
Number 50,000 of the second generation of Volvo C70 has been handed over to its German owner, Harald Kirschey from Olpe. The Sapphire Black convertible is featuring a D5 turbocharged diesel engine with 180 hp (132 kW) and automatic transmission, including Geartronic function. It was handed over at the dealership Autohaus Mohag in Recklinghausen.
Harald Kirschey, 36, from the Sauerland region, works as a freelance programmer for CNC machinery and describes his choice of the Volvo C70:
"This convertible combines all of the features that I want in a car and which are likewise important for my profession. Volvo stands for outstanding safety and innovative technology. Moreover, it is one of the most beautiful convertibles on the market."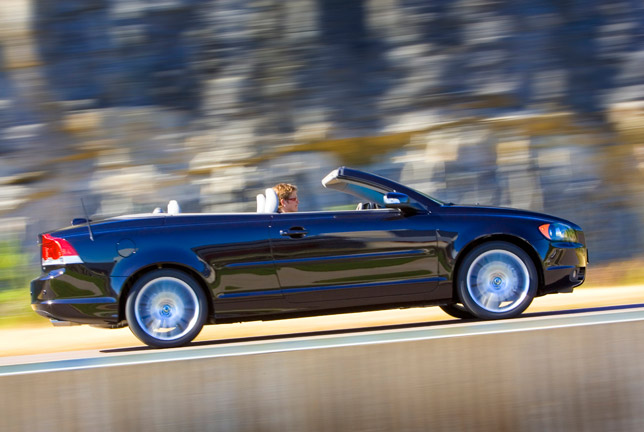 The Volvo C70 has been one of the most coveted convertibles for more than ten years. Thanks to its three-section steel hardtop, the current model combines the elegance of a classic coupe with the fascination of a modern convertible. While the styling is an important factor, the car's outstanding position is based especially on its unique safety technology; the Volvo C70 is one of the safest convertibles in the world.
In the a safety comparison test conducted with ten convertibles, the Volvo C70 received the best marks for all of the test criteria and was awarded the title "Top Safety Pick" by the American IIHS institute (Insurance Institute for Highway Safety).
In model year 2010, customers can choose among five different engines, petrol and diesel, ranging in power from 136 hp (100 kW) to 230 hp (169 kW). The extensive safety features include highly efficient systems, some of them, such as the rollover protection system ROPS designed by Volvo, have been developed specifically for the convertible. Other safety features which come as standard include the whiplash protection system WHIPS, innovative head-shoulder airbags, doormounted inflatable curtains and the intelligent driver information system IDIS.
The Volvo C70 is produced by Pininfarina Sverige AB in Uddevalla, Sweden; a plant co-owned by Pininfarina SpA (60 percent) and Volvo Car Corporation (40 percent).