Spyker Introduces Spyker C8 Laviolette LM85
Spyker Cars N.V., manufacturer of exclusive premium sports cars, proudly presents the Spyker C8 Laviolette LM85 the road version of its GT2 LeMans car.The Spyker C8 Laviolette LM85 will be built as a limited edition of 24 units maximum, and will be available in both left and right hand drive. Production of the LM85 commences this quarter.
The LM85 is an advanced mid-engine, two-seat sports car. It is characterized by a lightweight all aluminium body construction and an uncompromising engineering package. The powertrain of the LM85 is the all aluminium Audi 4.2 Litre V8 engine producing 400 bhp. This is paired to a manual six- speed Getrag gearbox, driving the rear wheels with a Drexler limited slip differential. ABS is standard. The use of aluminium parts and other lightweight materials results in an impressive power-to-weight ratio and underlines the GT2 racing heritage of the car.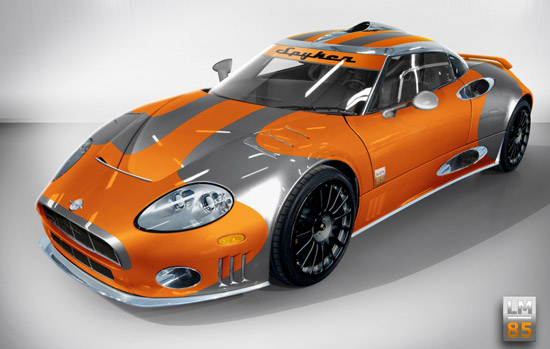 Exterior
Based on the Spyker C8 Laviolette GT2R, the racing characteristics of the LM85 are numerous, such as the all aluminium chassis, GT2 livery (Burnt Almond Orange with Gun Metal "S' logo), side mirrors in body colour, a carbon fibre rear spoiler, and GT2 windscreen streamer. Behind the black powder coated alloy wheels, black AP Racing 6 piston brake calipers with AP Racing logo appear. The LM85 can optionally be equipped with Le Mans sticker sets as well as a customised LM85 car cover.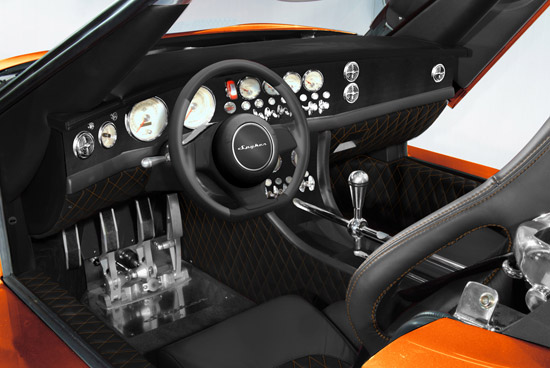 Interior
The ample use of black leather and alcantara, which is originally meant to reduce light reflection during racing, has been finished with orange contrast stitching and characterizes the unique interior of the LM85. The dashboard instrument panel is made of turned aluminium. Each car will feature a personalised LM85 serial plaque. On request, Chronoswiss dials and switches can be installed and are virtually identical to the Chronoswiss 24Hours Pilot Watch every LM85 owner receives with his car. The black floor mats are made of fire protective material, finished with orange piping and the LM85 logo embroidered.
Extra features As mentioned above, every LM85 owner receives a special edition Spyker Chronoswiss 24H Pilot Watch with orange crocodile strap. The serial number of the car will be engraved on the case of this exquisite time piece. Additionally, all LM85 owners are offered an exclusive Spyker VIP Hospitality weekend at the 24H of Le Mans in 2009.
LM85 on display
The first two LM85 cars that will come off the production line are scheduled for display in Saudi Arabia, at the opening event of Spyker of Saudi Arabia (www.premiumcollectionsa.com) and at the Jeddah Motor Show (www.acexpos.com) from 27 until 30 October 2008, and in Los Angeles at the LA Auto Show (www.laautoshow.com) from 19 until 30 November 2008.
Specification - Spyker C8 Laviolette LM85 MY09
Exterior Features
Body colours: Burnt Almond Orange with Gun Metal "S" logo
Side mirrors in Gun Metal
GT2 carbon fibre rear spoiler in Burnt Almond Orange
Spyker GT2 windscreen streamer
Towing eye and towing ring in orange
Roof panels in Burnt Almond Orange
Aluminium front body gurney
LM85 logos with serial number
Interior Features
Airbag Steering Wheel trimmed in black alcantara and black perforated leather grab areas; orange stitch
Dashboard top panel trimmed in black alcantara; orange stitch
Centre tunnel and sills trimmed in black quilted alcantara; orange stitch
Knee area dashboard and glove box trimmed in black quilted leather; orange stitch
Door panels in black leather; quilted inlays in alcantara; orange stitch
Roof upholstery in black alcantara
Boot panels in black quilted leather; orange stitch
Fire protective floor mats in black; orange piping; LM85 logo embroidered
Dashboard instrument panel in turned aluminium
Personalised LM85 serial plaque
Kill switch mounted on dashboard
Spyker logos in head rests
Extinguisher system mounted at passenger's side
Body & Chassis
Full Aluminium Space Frame
Full aluminium body
Engine & Transmission
4.2 litre, 400 HP, Mid-mounted 40 Valve V8 Engine
Multi-Point Fuel Injection System with Electronic Ignition
Synchromesh Six Speed Transaxle. Drexler Limited Slip Differential
Lightweight flywheel
Special engine covers (silk black)
Whisper mode operated exhaust system
Wheels & Tires
Fully Independent, Adjustable Suspension, Utilizing Wishbones
Koni F1 Shock Absorbers, Eibach Springs
Black AP Racing logo'ed Calipers
AP Racing pistons 6/4 (front/rear)
Anti-lock Braking System (ABS)
Light weight fuel tanks
19" Black Aeroblade wheels with central wheel nut
Additional Features included
Spyker Chronoswiss 24H Pilot Watch with orange crocodile strap; LM85 serial number engraved
Exclusive Spyker VIP Hospitality 24H LeMans 2009 weekend for every LM85 owner
Optional Features
Sticker set 1 (number 85, driver's name and national flag) - Free of charge
Sticker set 2 (Complete 2009 LeMans sponsors) - Free of charge
Car cover; black with orange piping; LM85 serial number embroidered
Chronoswiss dials and switches