Spyker C12 Zagato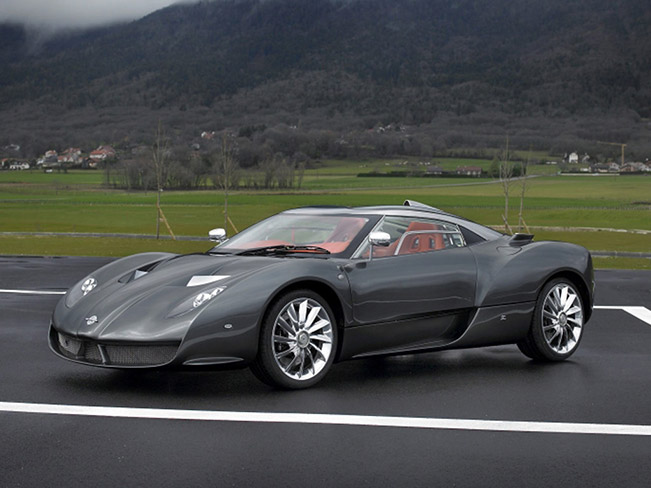 Victor Muller, CEO of Spyker Cars, and Andrea Zagato, CEO of Zagato, today unveiled the Spyker C12 Zagato at the 77th Geneva International MotorShow. Norihiko Harada, Zagato's Automotive Chief Designer, and Muller co-operated closely to design this limited edition of 24 sports cars to be delivered from March 2008 onwards. The world première of this ultra-exclusive version of the C12 range celebrates Spyker's entry into the world of Formula One and marks the first integration of design elements and styling cues from the Spyker F8-VII Formula One car into the Spyker road car range. This point was underlined by the unveiling of the car being performed by Spyker's Formula One race driver,
Victor Muller comments: At the age of 18 I acquired my first Zagato bodied car: a Lancia Flavia Zagato rally car in dire need of restoration. Ever since that date, some 30 years ago, I have been in love with the unique and distinctive designs penned by this noble design house. Many Zagato bodied cars have followed the Lancia Flavia and I am proud to still have a number of Zagatos in my collection.
The co-operation and partnership between Spyker and Zagato is entirely logical if one looks at the rich heritage both companies share in the fields of aviation and racing. A better fit of aesthetics, skill and passion would be hard to find.
Two brothers, Jacobus and Hendrik-Jan Spijker, coach builders in Amsterdam, built their first Benzengined motor car in 1898 and won immediate acclaim for the supreme craftsmanship of their bodywork. In the period prior to World War I, a worldwide slump in the luxury car market meant that Spyker had to diversify its production, and so it merged with the Dutch Aircraft Factory N.V. This combined company evolved its business model and started developing and building aircraft. After the war Spyker was able to return to its roots and resumed car production in 1919. True to its motto 'Nulla tenaci invia est via' ('For the tenacious no road is impassable'), Spyker continued building recordbreaking cars which now featured extensive aircraft influences, including sophisticated aerodynamics absorbed from the aircraft building years.
Similarly, Zagato was established at the end of World War I by Ugo Zagato, putting aircraft industry construction techniques to use in the expanding market for passenger vehicles. Just like the Spyker cars, Zagato's cars were advanced in design and became synonymous with light weight and excellent aerodynamics.
Spyker C12 Zagato: the rationale
Victor Muller continues: "Andrea and myself have known each other for many years and met at events such as Pebble Beach Concours d'Elegance and Villa d'Este Concorso d'Eleganza on numerous occasions. Last April, at Villa d'Este, we sat down and discussed the increasing market demand for truly one-off and limited edition super sport cars. In a certain sense the modern market is not unlike the 1930's, where wealthy customers would order exotic bespoke designs from high-end coach builders on Rolls-Royce, Bentley, Delage, Delahaye and Isotta-Fraschini chassis, just to mention a few."
Zagato established its name by designing exquisite cars for Lancia, Alfa Romeo and Ferrari in particular, but it is probably the Aston Martin DB4 Zagato that best represents the artistic expertise of what they do. Andrea and I agreed to meet each other in Arese and to define what a Spyker Zagato would have to embody. In view of market demand, it was decided to use Spyker's flagship chassis, the C12, as a basis - its space-frame being exceptionally suitable for crafting a bespoke body onto."
After the initial design meeting in July 2006, it became apparent that Spyker would succeed in acquiring the Midland Formula 1 team and design activities were suspended until early October when that transaction had been consummated. "With the F1 team part of the Spyker Group it was decided that the C12 Zagato should embody as many of the Formula 1 design cues as practically possible so as to set a new design vision for future Spyker road car models."
In the months following, Spyker and Zagato finalized the design and the manufacturing of the C12 Zagato was entrusted to Spyker's long time fabrication partner, Coventry Prototype Panels in Coventry, UK. Under the guidance of Brendan O'Toole, CPP's Managing Director, and Étienne Beijersbergen van Henegouwen, Spyker's Project Manager, the vehicle was built by a dedicated Spyker and CPP crew from aluminium in an amazing 4 weeks.
Spyker C12 Zagato: the vehicle
The Spyker C12 Zagato is an all aluminium rear wheel drive sports car, based on the Spyker C12 Spyder. The C12 is powered by the 6.0 liter, 12 cylinder, 500 bph W12 engine from Volkswagen AG and accelerates from 0-100 km (0-60 mph) in 3.8 seconds. The Spyker C12 Zagato is equipped with a six-speed manual or automatic gear box with F1 style shifting, Chronoswiss instruments and a Zagato designed full leather interior with brushed aluminium instrument panel. The C12 Zagato has an aluminium body with stainless steel roof rails and has many F1 derived design details such as an F1 nose, air scoop, chimneys, mirrors, rain light, fuel flap and diffuser. It has a panoramic roof that features the Double Bubble, a typical Zagato style element. The Spyker C12 Zagato has a length of 4.5 m, a width of 2.02 m excluding mirrors, a height of 1.25 m and weighs 1480 kg. The fuel tank capacity is 70 litres (15.4 gallons). Top speed is 310 km/h (193 mph).
"The Spyker and Zagato Atelier brands perfectly align because of their common aeronautical origins and because of the shared passion of Victor Muller and myself for sports cars" states Andrea Zagato."Nevertheless Victor, before starting this extraordinary adventure with Spyker, was a Zagato collector owning cars like the Flaminia SS and TZ. Together with our neo-classical approach, this Spyker C12 Zagato shows the capabilities of Zagato Atelier for innovative and non conventional solutions."
Norihiko Harada, designer of the new Spyker C12 Zagato, adds: "All Spyker cars have their own very unique style: the aeronautical retrospective style co-exists with craftsmanship and elegance. The new Zagato body becomes even more unique, aggressive and sensual at the same time. It features a new double bubble panoramic roof , F1 influenced nose and air intakes, chimney and a "coda tronca", the typical Zagato cut off tail end.
Maintaining Spyker's styling philosophy, Zagato design put all these elements together and created an extremely stimulating example of contemporary exotic high performance sports car by using typical modern Zagato lines which started from the Raptor Zagato in 1996."
The Spyker C12 Zagato will retail for EUR 495,000 (excluding any taxes, ex factory).