Senner Tuning Adds More Carbon To The Audi S5 Coupe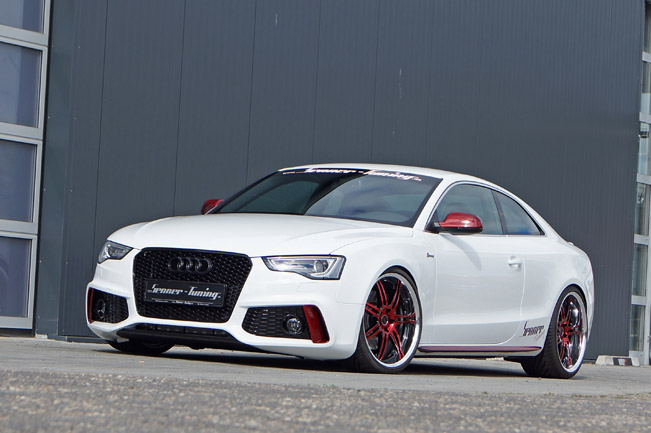 Senner Tuning has refined the 2013 Audi S5 3.0 TFSI coupe with facelift thus giving it more impressive on road stance, muscular posture and better performance. First of all, at the front is visible a new combination of RS front apron with an RS5 radiator cowing including black emblem and number plate fitting.
In addition, the tuners have given this Audi a carbon fibre elements which are decided in the color flash red, and can be seen in the large air inlets of the front aprons, the housing of the external mirror as well as the filigree side skirts.
At the rear, the rear spoiler flap and the rear screen cover are in the original colour of the car. The counterpart of the front apron is in the rear side contained in the rear apron insert in an RS5 look. The number plate is illuminated by bright LEDs.
Other highlights here include the two-part welded Work Varianza T1S alloy wheel rims which light up in flash red, in sizes 9x20 inches at the front and 10.5x20 inches at tthe rear. They were matched with Vredestein Ultrac Sessanta tyre of the dimensions 245/30R20 and 295/25R20 for the front and rear respectively. Additionally, the KW coilover kit of variation 3 that was added ensure a perfect fitting of the wheels in the fender.
But the transformation does not end here. Senner Tuning has also taken care of the powerplant under the hood of the S5 – the supercharged 3.0 liter TFSI V6. Next to the new two-part carbon cover of the driving mechanism, the professionals have done an installation of an Injen cold air intake which features power pipe (Black Edition).
Through an electronic power booster, now the air suction system delivers a peak performance of 446 horsepower (328 kW) and a maximum torque of 511 Newton meters (376 lb-ft). And via a software optimisation, the electronic clog was deactivated.
Moroever, a power converter also sharpens the characteristic lines of the electronic gas pedal. This results in rendering of the power of the engine. The adapted RS5 exhaust system with valve control that is connected to a flow-optimised downpipe ensures a thrilling sound. This exhaust system was optically finished in the black RS5 end pipe covers.
The interior was also given a treat via a carbon fibre in black which contrasts the red-black bi-coloured Nappa leather fitting and decorates the dashboard, centre console, RS5 door handles and the sports steering wheel. A stainless steel pedal set in the basement floor including foot rest and soft velour car mats with leather are other visible elements insde.
Source: Senner Tuning