Senner Tuning Gives Audi A8 Additional 76 Horsepower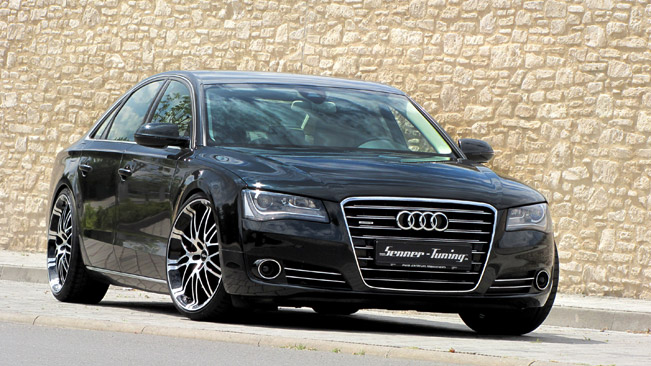 Audi A8 has always been one of the most luxurious and desirable cars, since it was introduced to the automotive market. In fact, according to a recently published study, the A8 is the ultimate dream car for Germans. But even these facts can't keep the tuners at Senner Tuning from exploring the optimizing potential of this Audi. The particular car on which they have worked is the 4.2 litre V8 model.
The external modifications include the exchange of the standard wheels for Oxigin14 Oxrock rims in the "Black Full Polish" finish. They come in the format 10x22 inch all round and are coupled with Continental Sport Contact 3 tyres in the dimensions 265/30R22. The standard air suspension has been lowered via DLC lowering module from KW. Due to the utilization of a WLAN module, the lowering of the air suspension can be individually adjusted using an iPhone application.
As mentioned, the A8 is powered by the 4.2 litre V8 engine, which produces as a standard 321 horsepower (236 kW) and 445 Nm (328 lb-ft) of torque. Here, Senner Tuning found the optimization potential and increased the power to 397 hp (292 kW). In addition, the maximum torque number also got bigger to the 477 Newton meters.
The tuners has spotted an interesting side effect after the performance increase: in spite of this additional performance, the A8 uses on average between 1.5 and 2.0 litres less petrol per 100 km. At last they have rounded the performance intervention by two new sport air filter inserts and a power converter.
The exhaust gases are processed by an in-house stainless steel exhaust gas system, which features a presilencer with a 100 mm end pipe to the right and left. The exhaust system has an EU operating permit (ABE) and produces great sound. The final step was to give the luxury car red painted brake calipers and LED number plate lighting.
Source: Senner Tuning