Seat Reveals Leon Cupra And Leon Cupra 280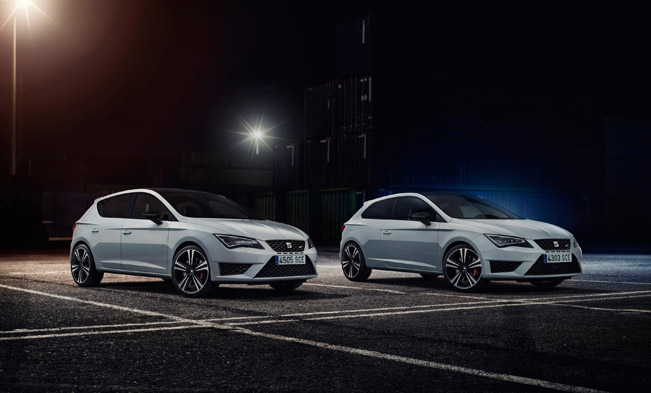 The quickest and most powerful series production car in Seat's range is finally here. Seat Leon Cupra 280 is the top car of a five-strong family. It is capable of achieving less than 6 seconds acceleration time for the sprint from 0 to 100 km/h, while at the same time managing to deliver 44.1 mpg fuel consumption on average.
Leon Cupra comes as standard with a mechanical front axle differential lock, a progressive steering system, DCC dynamic chassis control and two-stage deactivation of the electronic stability control (ESC). The new Leon is built on a new chassis and has a wider front track and entirely independent front and rear suspension.
In other words Leon Cupra and Cupra 280 offer power, performance and dynamics. For example the Cupra 280, with optional DSG transmission, accelerates from standstill to 100 km/h in 5.7 seconds, or 5.8 seconds when equipped with the six-speed manual gearbox. The top speed is 155 mph.
The maximum torque of both models is 350 Nm from 1,750 rpm to 5,300 rpm. At the same time, the cars manage to deliver average fuel consumption of only 44.1 mpg and CO2 figures of just 149 g/km and 155 g/km.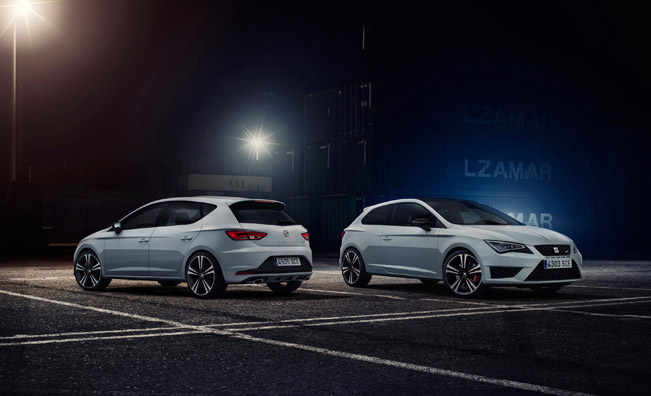 Leon Cupra and Cupra 280 are equipped with 2.0 TSI turbo petrol engine which delivers 265 hp (195 kW) and 280 hp (205 kW), respectively. The unit is packed with dual-injection system which combines direct injection with manifold injection under partial load. This serves in terms of fuel economy optimization and reduces particulate emissions. In addition, the efficiency package of the Cupra also features Start/Stop and Energy Recovery systems.
The impressive dynamics of the model rely on the low weight and a stiff structure. With DCC dynamic chassis control, a front-axle differential lock and progressive steering, the vehicles can deliver now faster acceleration and dynamism.
Furthermore, the new front-axle differential lock improves the traction and handling of this front-wheel drive car. In addition, this system also eliminates torque steer. Progressive steering system is also included as a standard here. It enhances agile handling of the car.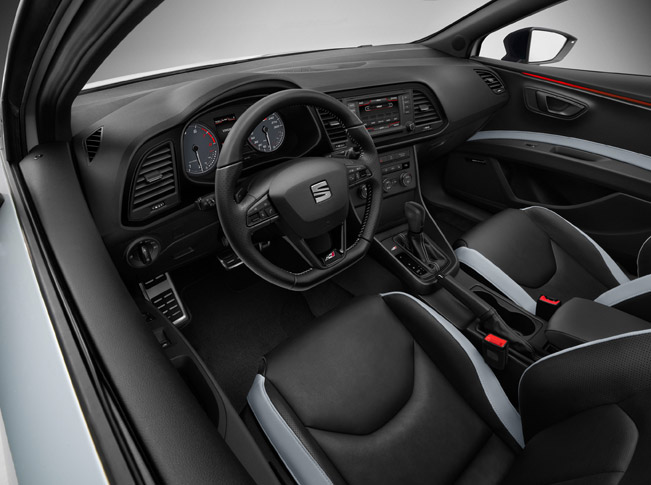 Seat Leon Cupra also features new design. Precisely, its front end now features large air intakes and full-LED headlamps, while at the rear one can see rear diffuser and two oval end pipes. The car runs on exclusive 19-inch wheels alloy wheels with a titanium paint finish, while the red brake callipers and tinted side and rear windows highlight additionally its individuality.
Inside, the Cupra features unique sports steering wheel with shifting paddles for the optional DSG transmission. There can also be seen the sports seats, in dark grey Alcantara finished with white stitching. As an option, Seat offers black full-leather upholstery with white stitching. The pedals and entry sills are made from aluminium.
The Aerodynamic Pack offered for the model comprises of a spoiler on the rear roof edge, Cupra lettering on the brake callipers and black exterior mirror housings. The trim elements in the cockpit of this top sporty variant are decided in deep glossy black.
Seat Leon Range:
| | | | | | | | | |
| --- | --- | --- | --- | --- | --- | --- | --- | --- |
| Model | Doors | Engine | PS | Combined mpg | CO2g/km | 0-62 mph | Top speed | VED band |
| | | | | | | | | |
| SC Cupra | 3 | 2.0 TSI | 265 | 44.1 | 149 | 5.9 | 155 | F |
| SC Cupra 280 | 3 | 2.0 TSI | 280 | 44.1 | 149 | 5.8 | 155 | F |
| SC Cupra 280 DSG | 3 | 2.0 TSI | 280 | 42.2 | 155 | 5.7 | 155 | G |
| Cupra 280 | 5 | 2.0 TSI | 280 | 44.1 | 149 | 5.8 | 155 | F |
| Cupra 280 DSG | 5 | 2.0 TSI | 280 | 42.2 | 155 | 5.7 | 155 | G |
Source: Seat