Tij-Power Tunes Seat Leon 5F Cupra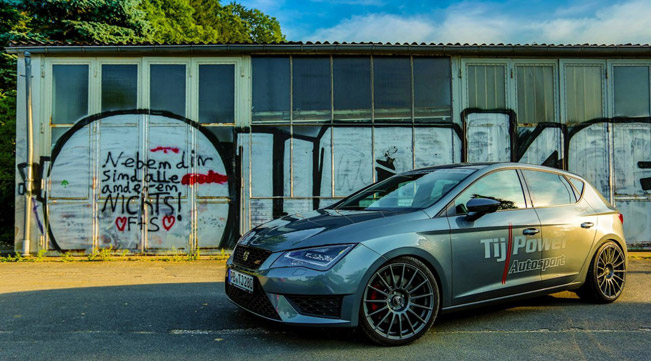 Tij-Power Seat Leon 5F Cupra is a project that needs our attention. Tij-Power is a tuning company based in Germany, which is very well known for its intensive focus on the Seat Leon. The subtle adjustments and modifications made match perfectly the general setting of this car. In fact, the improvements made appear like a consistent progression. The suspension has been optimized with Plug & Play Coilovers from KW. They feature a rebound and compression stage, which can be set to pre-adjusted settings: Comfort, Sport or Cupra.
These settings can be reached by the DDC system in the cockpit. The Comfort setting delivers almost hover-like feeling, the Sport setting adjusts the steering sensitivity and offers direct feedback of the terrain, while in the Cupra mode, the car evolves to a true racecar.
This modified Seat runs on lightweight OZ Superturismo LM rims in grey finish which come in the size of 8.x19 at the front and 9.5x19 in the rear. They are matched with 235/35-19 tires. Next, this new Cupra was fitted with a tricky exhaust system. Once the pedal hits the floor and the throttle valve is fully opened, the car produces a mighty roar.
This is accompanied by an infernal sound, which escapes from the hand-welded 76 mm exhaust that begins right after the turbo charger. Tij-Power even says that this sound will remind one of racecars
Of course, there will be no full customization without changing engine's parameters. The tuners substituted stock's intercooler with performance part from Forge. In addition, thanks to the Tij-Power software, the car now yields the breath-taking 375 horsepower (276 kW) and 489 Nm (361 lb-ft) of torque. These numbers result in a top speed of 290 kilometers per hour.
Source: Tij-Power