Rolls-Royce Phantom Coupe Aviator Collection Makes World Debut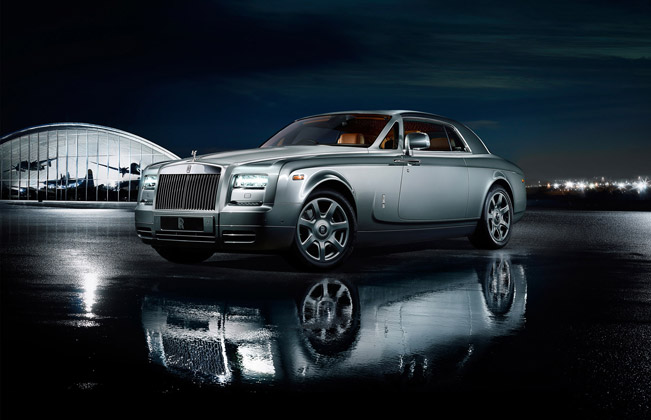 Rolls-Royce has just announced the launch of limited edition series of only 35 Rolls-Royce Phantom Coupé Aviator Collection examples. The models were inspired by Charles Stewart Rolls and the legend of the Schneider Trophy-winning Supermarine S6B, which is powered by a Rolls-Royce R Type engine.
The collection was created in order to celebrate the spirit of human endeavor that drove a very British hero and subsequently led Rolls-Royce to simultaneous world speed records on land, air and in the water.
As a matter of fact, the first appearance of this model will be made today, just few hours ahead, at the Pebble Beach Quail gathering in the United States. The new luxury vehicle will showcase there the new Aviator Grey paint finish as well as a contrasting matt bonnet, window and grille surround.
The interior is as glorious as the exterior. It features an interplay of wood and metal, a Thommen, aviation-grade clock with blood orange needle tips embedded in the metal foil upper fascia, matt black dials for power reserve, speedometer and fuel gauges.
The lower fascia here is veneered in mahogany and features Sapele contrast. Polished stainless steel wraps the 'onlays' with bullet-shaped ends, which in terms of design match the floor mat fixings.
Another interesting highlight here is the leather-lined glove compartment which features an embossed Charles Rolls quote following his first flight with the Wright Brothers in 1908. It says the following: "The power of flight is as a fresh gift from the Creator, the greatest treasure yet given to man." In addition, the centre console chrome plaque includes his sweeping signature.
Aviator Collection cars are also equipped with leather floor mats, which have also been designed to incorporate the Rolls-Royce of cup holders. Beautifully engineered in highly polished aluminium, they offer optimal functionality combined with a great sense of luxury.
Source: Rolls-Royce