Renault Twingo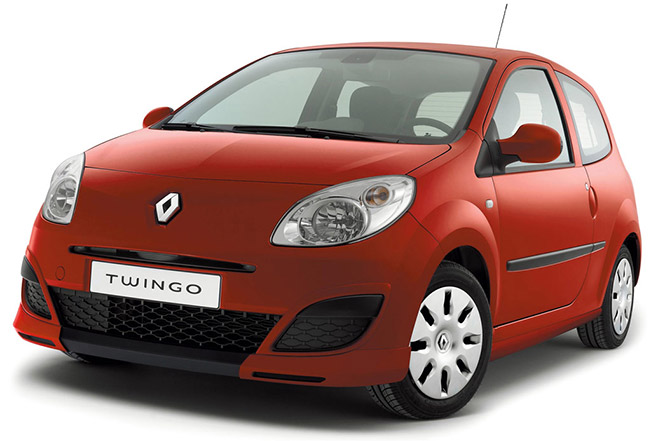 Renault Twingo will go on sale on 15 June 2007, the first new vehicle release in an extensive range renewal programme under the Renault Commitment 2009 plan. New Twingo targets a broader, more international customer base than its predecessor, and there's even a right-hand-drive model for the UK market.
New features include a benchmark-setting 1.5 dCi diesel engine and a high-appeal design, with the emphasis on dynamism for the GT version, and on practicality and robustness for the other versions. New Twingo rounds out Renault's coverage of the small-car segment alongside Clio Campus, Modus and Clio III. This great little car is made at the Novo Mesto plant in Slovenia to exacting specifications on quality and profitability.
Feisty
New Twingo expands upon its predecessor's qualities to offer superior dynamic and safety performance. It is precise and nifty in town, yet reassuring on the open road, thanks to a highly effective axle system. With its special chassis tuning and new 100hp TCE petrol engine, New Twingo GT asserts a strong dynamic personality and boasts best-in-class trade-off between performance and fuel economy. New Twingo is uncompromising on safety, offering optimum protection for all vehicle occupants along with modern driver support equipment that was not available on the previous model. Many of these systems, such as automatic headlamp light-up and cruise control with speed limiter, are only usually found on larger, more expensive cars.
Practical
True to the concept pioneered by its predecessor, New Twingo has three doors opening onto four comfortable seats that accommodate passengers of any size. Quality materials and excellent finish are apparent throughout the intuitive, ergonomic passenger compartment. This eminently practical little car goes to extremes on user convenience, with its versatile layout capabilities, surprisingly spacious interior and handy stowage cubbies. The boot is the largest in this vehicle category, and some versions feature four independent sliding seats.
Connected
New Twingo communicates effortlessly with the outside world, with connection capabilities unparalleled in this vehicle segment. The TunePoint sound system, with steering-wheel controls, imports custom music libraries in MP3 format, on USB key, MP3 player or iPod®. There's a Bluetooth® hands-free phone system with hold function, for safer motoring. And under the innovative "my Twingo" philosophy, motorists can customize their new cars with decorative decals for the exterior and innovative accessories like the Organizer-Box and Make-up Box for the interior.
Reliable, economical and environmentally sound
Respect for the environment is an inherent part of New Twingo's genetic makeup,with CO2 emissions down below 140g/km, 9% of recycled plastic material, and production at the Novo Mesto plant, certified to ISO 14001. Regardless of the choice of engine, all New Twingo versions bear "Renault eco2". And New Twingo is designed with meticulous attention to detail, for the lowest possible running costs and the longest possible service life: New Twingo is economical to run as well as being inexpensive to buy.