Renault Megane Sport III rolls out the production plant! Here's what we know so far!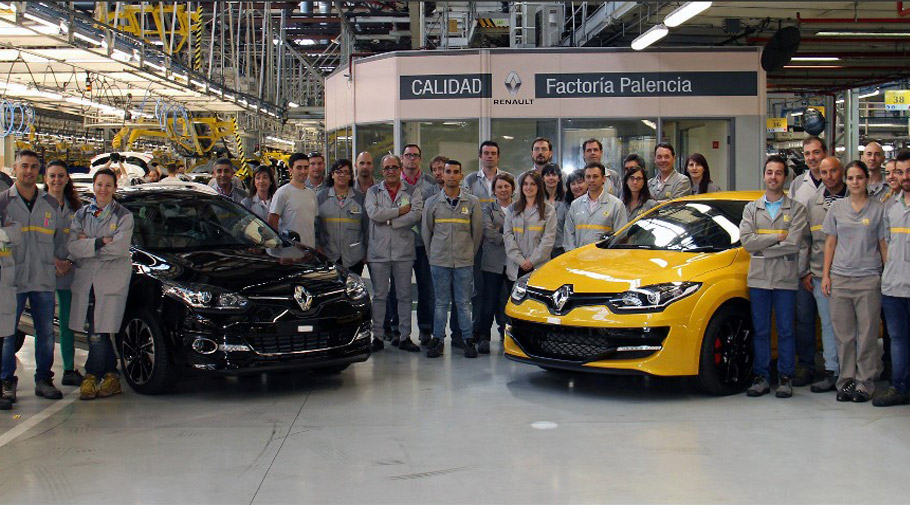 The latest Renault Mégane Sport has just rolled out off the production plant in Paencia, Spain and it is already available for purchase!
The final version of the Sport lineup proudly shows an already famous Liquid Yellow metallic finish, large 19-inch Speedline alloys with Michelin Pilot Sport Cup 2 wrapped tires and exclusive :Öhlins Road&Track adjustable dampers.
The inside welcomes the brave-hearted to a Alcantara-dominated cabin with sporty steering wheel, Recaro seats, Handsfree keycard, Renault Sport Monitor V2 on-board performance tracking and R-Link Multimedia system with satellite navigation. Sweet.
SEE ALSO: 2016 Renault Grand Coupe: was it that necessary?
But let's get back to the interesting part. The Cup-S specification. This is a higher trim level that adds numerous drivetrain features and improves others. For example, the vehicle with this set up benefits from PerfoHub double-axis front suspension, mechanical limited-slip differential, red Brembo four-pot brake calipers, stiffer anti-roll bar.
SEE ALSO: Renault proudly presents the new RS 200 EDC sporty beast.
In terms of engine power, the 275 Cup-S offers (what a surprise!) 275hp (205kW) of power output via a revised 2.0-liter turbocharged petrol power unit. In fact, this is an improved version of the engine that aided the Renault team to brake the lap record at Nürburgring track back in 2014. This means that you will deal with a bad boy!
In fact, we are impressed with Renault's ambition to deliver us better and better sport vehicles. And as it looks, this one would not disappoint. Or would it?
Source: Renault Sport