Renault Fleet for Motorsport Vision Circuits
For the fourth consecutive year, MotorSport Vision has teamed up with Renault for the French manufacturer and Formula 1 constructor to supply driving experience and race meeting support vehicles to MSV venues.
The new fleet, which was unveiled this week, includes fourteen New Twingo GTs for MotorSport Vision's innovative YoungDrive experience.  The Twingo is Renault's all-new small car launched at the end of last year and will give youngsters aged 14 to 17 the opportunity to learn basic driving skills before gaining their provisional licenses.  The Twingos will be used at Brands Hatch and Oulton Park, and also to launch YoungDrive at Bedford Autodrome.
Renault already supplies high-performance Megane Renaultsport 230 F1 R26s and Clio Renaultsport 197s for MotorSport Vision's corporate driving events and RaceMaster experiences at Brands Hatch and Oulton Park.
Jonathan Palmer, Chief Executive of MotorSport Vision, said:  "Renault has made an extraordinary contribution to motorsport over the last 30 years.  Apart from having won many Formula 1 world championships, Renault has also been the dominant manufacturer providing and supporting junior motorsport in single seaters and saloon cars."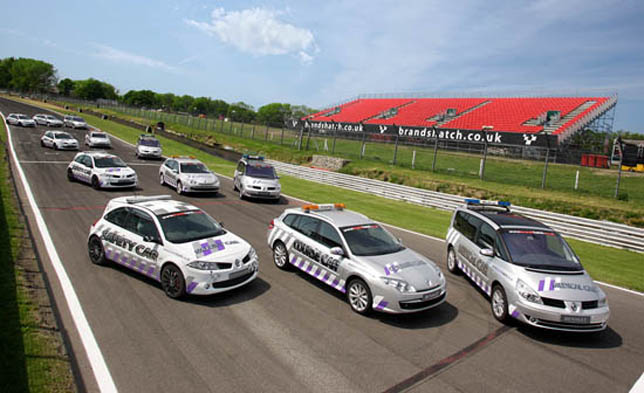 Palmer added: "This engineering pedigree has been extended into brilliant road cars including the Clio Renaultsport 197 and the Megane Renaultsport 230 F1 R26.  MotorSport Vision's fleets of such cars at Brands Hatch and Oulton Park enable our RaceMaster participants to savour performance raved about by the motoring media on two of the most exciting and famous circuits in the country."
In addition to the fourteen Twingos and RaceMaster vehicles, Renault will also provide three new race support vehicles for Brands Hatch, Oulton Park, Snetterton and Cadwell Park.  Each circuit will operate a Renault Megane Renaultsport 230 F1 R26 Safety Car, a New Laguna Sport Tourer Dynamique Course Car and a Grand Espace Dynamique V6 Medical Car as part of the track safety infrastructure at national and international events.
Renault is a name synonymous with motorsport and winning including Spaniard Fernando Alonso's 2005 & 2006 Formula 1 World Championships.  The French manufacturer has also achieved Le Mans victory plus success in the British Touring Car Championship and British Rally Championship, whilst its UK Formula Renault and Clio Cup series have furthered the careers of a host of drivers including Lewis Hamilton, current World Champion Kimi Raikkonen, World Touring Car Champion Andy Priaulx and saloon ace Jason Plato.