Opel Shows Mokka Moscow Edition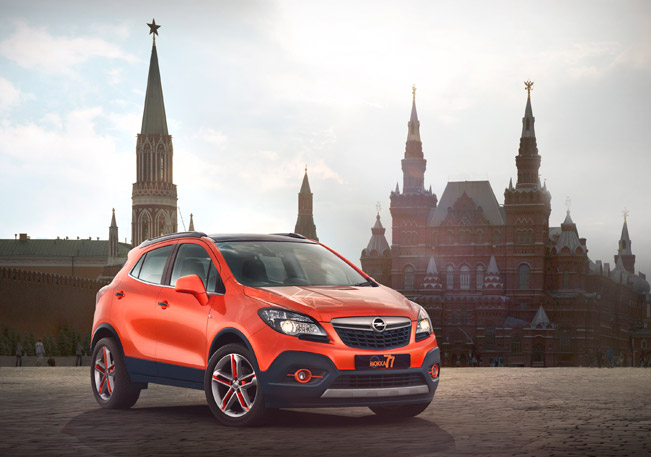 Opel Mokka Moscow Edition is a very fresh addition to company's Russian line-up, which was shown for the first time at the Moscow International Motor Show. Next to it, Opel presented there two other vehicles with strong emotional appeal, which are scheduled to go on sale in early 2015. The first one is the new Opel ADAM, which makes Russian premiere next to its wild sibling ADAM ROCKS. The models will be available in Moscow from January next year.
The next vehicle which made a premiere is the most powerful Opel – the all-wheel drive Insignia OPC. It is powered by the 2.8 V6 Turbo engine, which delivers 325 hp (239 kW) and a meaty 435 Nm (321 lb-ft) maximum torque.
Opel Mokka Moscow Edition is the star of the show, because it shows exciting design concept specifically created for Russia. The sub-compact SUV is designed in such way that it actually pays homage to Moscow.
The car carries a customized graphic inspired by the Moscow city map. For instance, such are the 'o' in the stylized Mokka name, on the hood, roof, rear and inside, represents the city center, its inner circle. The stylish interior perfectly adds to the headliner in finest Alcantara adorned with the leading motif.
Mokka's cladding on the nose, front and wheel-arches includes dark-blue tone. It contrasts with the dominant orange body color and gives the Opel strong off-road appeal.
The next news around the Mokka is that in early 2015 Dakar rally will be launched. The Hungarian Opel-Team Balázs Szalay/László Bunkoczi will be again preparing a very special Mokka to take part in the legendary competition.
The Mokka 'Dakar' is equipped with 25 cm suspension travel, huge 520-liter safety fuel tank and body components made from carbon fiber. It is powered by a 6.2-liter V8 engine mated to a six-speed sequential transmission. The unit pumps out 340 hp (250 kW) and torque of 660 Nm (487 lb-ft). The car can be currently seen at the show.
Source: Opel