Nissan Proudly Returns on Le Mans Race With Three GT-R NISMO Models
It is finally here! The moment has arrived! On June 13, at 9 a.m. there will be three Nissan GT-R LM NISMO models, that will start the world's toughest race, which will also mark Nissan's return on Le Mans 24 Hours race.
The three machines, that received some radical upgrades, will compete with international team of drivers from Formula One, sportscar racing and Nissan's GT Academy.
Max Chilton (GB), who is an ex-F1 star, GT Academy winner and GP3 racer Jann Mardenborough (GB} and the sportrscar legend Oliver Pla (FRA) will tame the #23 beast.
In car #22 will compete the longest-standing NISMO racer of them all, Michael Krumm (GER) himself, side by side with Le Mans winner Harry Tincknell (GB) and Nissan GT ace Alex Buncombe (GB)
SEE ALSO: Audi Brings Together All Le Mans Winner Models
And now, the special part. Nissan NISMO #21 was given a special livery to celebrate the Nissan R90CK, that dominated the Le Mans track 25 years ago. The number 21 vehicle comes with red, white and blue finish, so that it honors its predecessor. Now, for 2015 le Mans race, #21 will be driven by the current Super GT Champion Tsugio Matsuda (JAP), the first GT Academy winner and Super GT500 racer Lucas Ordonez (ESP) and the first winner of GT Academy Russia, Mark Shulzhitskiy (RUS).
The tree Nissan GT-R LM NISMOs will get back on the track on Wednesday, June 10 for a practice session. The qualifying for the race itself starts on Wednesday and Thursday.
As you know, Nissan-powered machines has taken the LM P2 class victory numerous ways in the last year, which makes it no surprice, that the NISMO-tweaked Nissan VK45DE V8 engine will be still choice number one for LM P2 engineer and race teams. Now the 2015 Le Mans 24-hours race will meet the three Nissan vehicles with V6 twin-turbo engines, and a 30 per cent grid at Le Mans, powered by Nissan.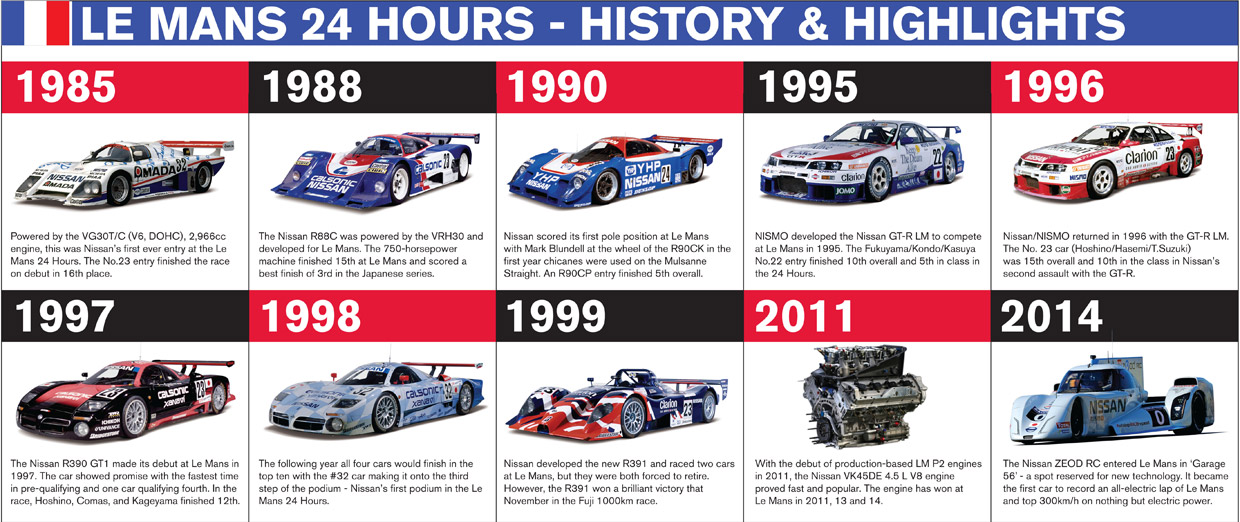 Stay tuned for further information.
Source: Nissan