MTM Audi S8 Talladega has 760 Horsepower to Show-Off With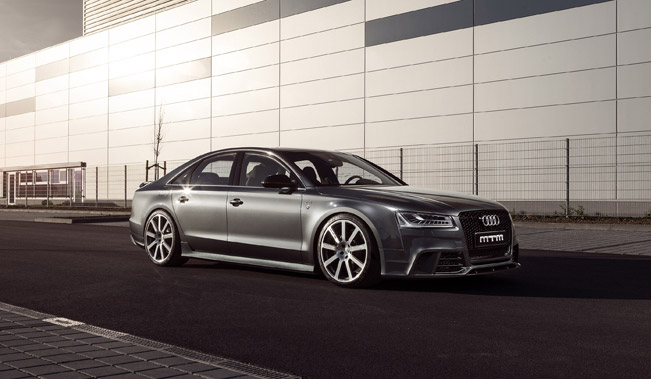 MTM Audi S8 Talladega is probably one of the last tunings we are to see from MTM in 2014. And for this reason it is powerful, imposing, and have these extremely aggressive and sporty looks. But when one hears it, he or she definitely gets it why we like this custom Audi so much. They eight cylinders have been boosted and now delivers 760 hp (559 kW) at 5950 rpm and maximum torque of 945 Nm (697 lb-ft) between 1700 and 5500 rpm. The torque is stable over the entire range and this huge outpouring of power is being applied to the road through all four wheels.
The power unit is based on the RS6's eight cylinder engine. In order to achieve more power, MTM tuners have touched the turbochargers, exhaust system and water cooling. The team also intervened in the gearbox software to set the shifting points at 7000 rpm.
Speaking in numbers, these modifications result in a 0 to 100 km/h acceleration of 3.48 seconds, passing the 200 km/h mark in 10.51 seconds and reaching its top speed at 325 km/h Carbon and ceramic brakes on the front and rear axles is what stops the Talladega.
MTM's 240 hp of additional power comes with M-Cantronic and V-Cantronic including turbocharger, MTM 4-pipe stainless steel exhaust system after the turbocharger with flaps in two pipes, and an in-house manufactured F-Cantronic II used to lower the air-sprung chassis.
There is also a set of 21' Bimoto wheels, which were shod with 295/30 Michelin Pilot Super Sports. They perfectly complement the MTM aerodynamics kit that includes high carbon fiber content. Inside, we see a premium quality interior package that makes the atmosphere cozier.
On 24th of March 1986, Audi unleashed an Audi 5000 CS Turbo on the Talladega Speedway in Alabama in pursuit of a record. The US model, (Europeans know it as Audi 200 Turbo), was driven by a 2.2 litre, 5-cylinder turbocharged engine with five valves per cylinder and power output of 650 hp (678 kW). The Audi averaged a speed of 332 km/h around the oval track and it made it through the longest straight at a top speed of 350 km/h.
Source: MTM