Mercedes-Benz Announces New S-Class Cabriolet. To be Revealed in Frankfurt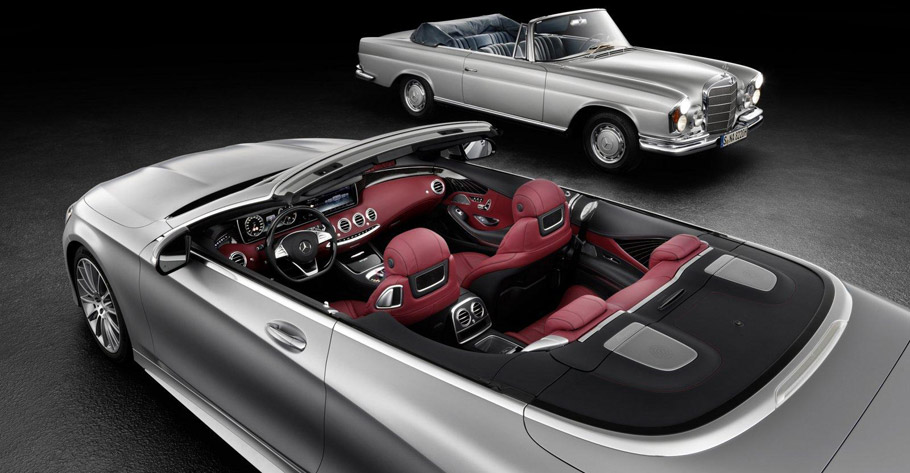 Mercedes-Benz S-Class Cabriolet is going to be one of the main stars at Mercedes' stand at the Frankfurt Motor Show. The open-top car is going to be revealed in its newest form. In addition, by revealing the picture above, the German brand is creating a strong anticipation. It is clearly visible that the cabin of the cabrio is luxurious but has also kept the classic appeal of the first S-Class Cabriolet.
By the way, the first ever open-top S-Class was built through a 10-year long period: from the period 1961 to 1971. With its unmistakable and stylish design, high-quality materials and exclusive luxurious appearance inside and out, it made a furor among Mercedes fans.
SEE ALSO: Mercedes-Benz S-Class Gets One More Award!
The latest S-Class cabrio is built around the same characteristics, even though 44 years have already passed. What is more, with this car Mercedes promises to create the most comfortable cabriolet in the world.
Mercedes didn't say much about the new vehicle they are going to introduce. The only information revealed is about the climate comfort. It will be improved through various means: automatic wind protection system AIRCAP, AIRSCARF neck-level heating system, heated armrests, seat heating in the rear and the intelligent fully automatic climate control.
A Touch of History

Through this ten-year production period Mercedes-Benz offered five different models in these model series: the 220 SE, 250 SE, 300 SE (W 112), 280 SE and the eight-cylinder 280 SE 3.5. There are exactly 7013 units of these five cabriolets manufactured.
So this basically means that these cabrios are one of the most sought-after classic cars nowadays. An interesting fact is that in its estimation a 280 SE 3.5 from 1971, in condition 2 today has a value of around $290,000 USD. Ten years ago this price was estimated $115,000 USD. But if you have this model and have kept it in perfect condition, this means that you can auction it for up to $429,000USD. Such car was sold last August by RM Auctions for this amount of money.
Another example is the last six-cylinder 280 SE model, which was produced back in 1969. In an excellent condition this model could be sold for at least $75,000USD, while ten years ago the pricing was $45,000USD. Early 220 SE models are estimated around $84,000 USD.
Anyway, we are impatiently looking for the reveal of the latest S-Class Cabriolet, aren't we?
Source: Mercedes-Benz