Mercedes-Benz CGL45 Carlsson
Carlsson have been making tuning package for Mercedes-Benz for more than fifteen years. Now, it is turn to Mercedes-Benz GL Grand Edition, which received styling and performance upgrades. The name of the project is CGL45.
The wide-body kit includes a new front spoiler with integrated LED day time running lights, a chrome grille, flared wheel arches, a new rear apron, which houses quad-pipes from the stainless-steel sport exhaust system.
The vehicle ride is lowered with 30 mm with an intelligent suspension-lowering system. CGL45 stands on enormous 22" alloy wheels fitted with 305/35 ZR22 high-performance tires.
Performance packages are available for the 3.0 liter V6 diesel, which is pumped up to 310PS (228 kW) and 700Nm (516 lb-ft) of torque and the powerful GL500 featuring V8 engine, which produces 435PS (320 kW) and 600Nm (442 lb-ft).
The interior boasts leather and Alcantara upholstery, wood or stainless-steel trims, aluminum foot pedals, door sills with Carlsson logo as well as the headrests.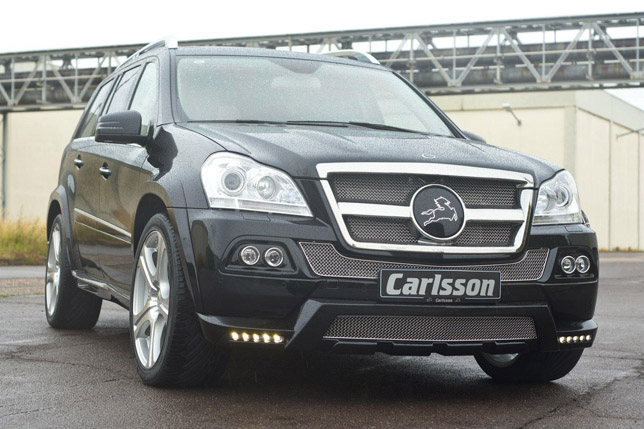 Source: Carlsson