Carlsson Mercedes-Benz CLS CK63 RSR - Top Speed 340km/h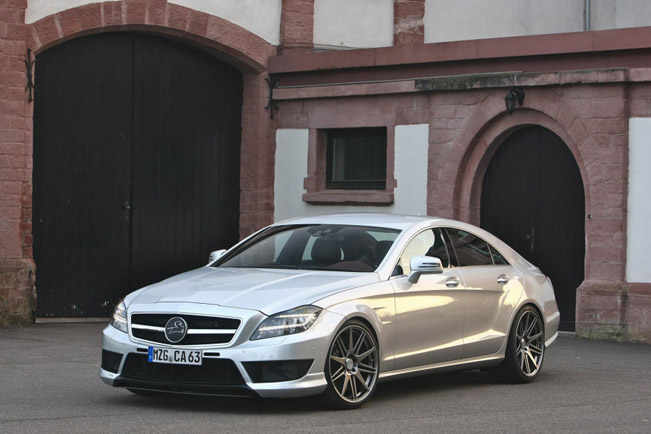 Carlsson has presented their latest tuning project based on the new Mercedes-Benz CLS 63 AMG. The four-door coupe comes with both – styling and performance modifications.
The CLS 63 AMG is powered by a 5.5 liter bi-turbo V8 with 557HP (410 kW) at 5,500RPM and 720Nm (533 lb-ft) of torque at 1,750RPM. 0-100 km/h in 4.2 seconds for the RWD versions and just 3.7 seconds for the 4Matic AWD models. Carlsson boosts the engine to 700HP (515 kW) at 5,700RPM and 1000Nm (741 lb-ft) of torque at 2,000RPM. With the new power, the car accelerates to 100 km/h in 3.9 seconds, to 200 km/h in 11.6 seconds and has a top speed of 340 km/h (211 mph).
The CK63 RSR uses a specially developed high performance stainless steel sports exhaust incorporating 200-cell metal catalytic converters to further reduce back-pressure. This exhaust system also incorporates an electronically controlled sound valve, giving the driver the choice of a near standard sound level for civilized progress through urban areas, or a full-on, snarling muscle car V8 experience at the touch of a button.
The suspension comes with bespoke height adjustable coil-overs with 10-position bounce and rebound adjustment to cover road or track use. The car is normally set 30mm lower than standard for road use, and the front track has been widened by 25mm with spacers for better turn-in and stability in the bends.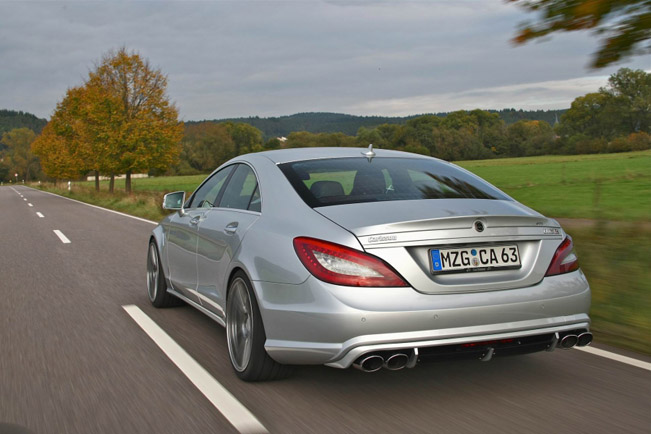 The elegant and sporty one-piece Carlsson 1/10 alloy wheels come in a choice of 19" or 20" diameters. The brakes are also modified – 405 mm diameter vented discs clamped by 6-pot calipers fitted with their heavy-duty brake pads in front. The rear brakes are standard AMG, with uprated pads
The exterior boasts Carlsson RS carbon-fibre front spoiler lip, black stainless steel mesh inserts in the intake grilles, brake cooling intakes, and rear carbon valance insert. A new feature over the RS version is the electrically retractable rear spoiler, which extends into the airflow automatically at 100km/h, with manual activation possible at any speed. Its size and angle of attack have been wind tunnel tested to reduce lift and drag in combination with the underbody rear diffuser.
The interior features finest leather, Alcantara, carbon-fibre and natural wood, and exemplifies the uncompromising quality of Carlsson's in-house trim department.  There are also Carlsson interior floor mats, polished aluminium sill plates with blue illuminated Carlsson logo, and aluminium door locking pins.
VEHICLE DIMENSIONS:
Length:            4,996 mm
Width:            1,881 mm
Height :            1,366 mm
Unladen weight:         1,969 kg
Fuel tank capacity/reserve:     66.0 L / 14.0 L
ENGINE:
Water-cooled, 90-degree V8 engine with two turbochargers, DOHC, 48-valves,
Displacement:         5,461cc, bore x stroke 98.0 x 90.5 mm
Compression ratio:         10.0: 1
Power:             700 hp / 515 kW at 5,700 rpm
Torque:             1,000 Nm between 2000 and 4,500 rpm (electronically limited)
CO2 emissions:         276 g / km
Fuel:             Super Plus (98 Roz)
Engine oil:         Fuchs
TRANSMISSION:
Rear-wheel drive with differential lock and ESP
Seven-speed Speedshift MCT transmission
Reverse 1:             3.42
Reverse 2:             2.23
Limited slip differential with 40 percent locking action.
Axle ratio:             2.65: 1
CHASSIS:
Independent suspension with height-adjustable Carlsson coil-overs.
Front axle: MacPherson strut, lower wishbone, height-adjustable coil-over suspension with 10-position adjustable bounce and rebound control, anti-roll bar.
Rear axle: Multi-link control arms, height-adjustable coil-over suspension with 10-position adjustable bounce and rebound control, anti-roll bar.
WHEELS:
Carlsson 1/10 alloy wheels with Dunlop Sport MAXX tyres.
Front: 9.5J x 20-inch with 255/30ZR20 tyres.
Rear: 10.5J x 20-inch with 305/25ZR20 tyres.
BRAKES:
Carlsson high performance brake kit
Front:     six-piston fixed calipers with 405 x 36 mm steel vented discs
Rear:     four-piston fixed calipers with 360 x 28 mm steel vented discs
Braking distance:
Cold, from 100 km/h        40.0 m
Hot, from 100 km/h        35.3 m
Response delay:          Up to 13.3 m/s²
Performance:
0-100 km/h:           3.9 s
0-200 km/h:         11.6 s
V/max:             Approx. 340 km/h
Fuel consumption:
Source: Carlsson