Mercedes-AMG C63 S Coupe is Featured in Forza Motorsport 6 [VIDEO]

Mercedes-AMG C63 S Coupe has good news for all Forza Motorsport 6 gamers! The car is now featured in the new Xbox One racing game via new exclusive downloadable car pack. This happens before the market launch of the C63 S Coupe, and also means that the fans will be able to experience the new Mercedes-AMG C 63 S Coupé interactively on the racetracks of the world.
Tin fact, they are even having the chance to do that on legendary circuits such as the Nordschleife, Hockenheimring and the Le Mans. Besides this new model, there are also 14 other Mercedes models in the game, which are all ready for action.  For instance here are featured Mercedes-AMG GT, 300 SL and SLS AMG and the AMG version of the A-Class.
SEE ALSO: This Custom Mercedes CLA45 is a Real Turbo Sapphire
Another interesting news about the introduction of the C63 S Coupe in the game is that Mercedes-Benz has produced its own spot to mark the integration of the car. You can watch it below and enjoy the dynamic driving scenes specifically filmed on a deserted airfield and those of the virtual car which are graphically abundant. The sports car and its digital twin seem inseparable. The highlight is at the end so don't skip it!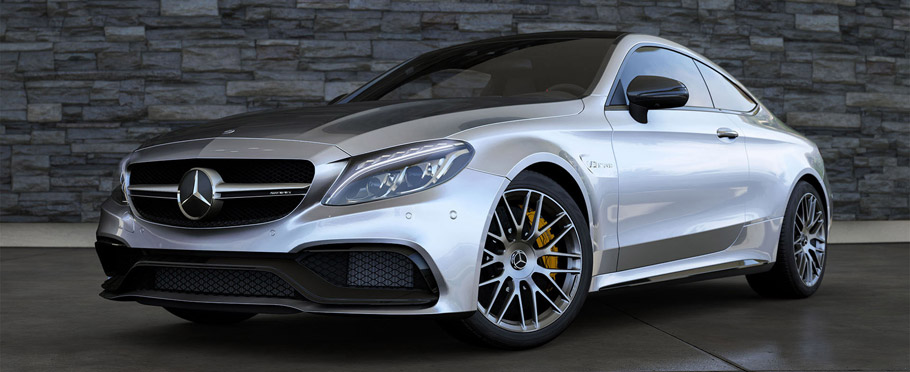 Fast Facts on Mercedes-AMG C 63 S Coupé:
| | |
| --- | --- |
| | 3982 cc |
| | 375 kW (510 hp) at 5500-6250 rpm |
| | 700 Nm at 1750-4500 rpm |
| Fuel consumption (combined) | 8.9-8.6 l/100 km |
| | 209-200 g/km |
| | E |
| | 1725 kg / 1800 kg |
| | 3.9 s |
| | 250 km/h |
Video Source: YouTube
Source: Mercedes-Benz