M&D Designs Camouflaged Mercedes-Benz CLS 500 Black Edition Stealth

M&D Mercedes-Benz CLS 500 Black Edition Stealth is a fresh project in midst of the Geneva Motor Show turmoil. The 'Stealth' CLS is dressed in camouflage colours, but this isn't its only asset. It features also a lot more power than its standard one, and one-off optic exterior kit coming directly from Prior-Design.
Exterior Tweaks
Speaking of the exterior tuning, it was the first to be "added" to this 'Stealth' project. The body kit included here is called PD550 Black Edition and comprises of a new front bumper that features CLS 63 AMG driving lights, new air intakes, front wings, side skirts, rear bumper with integrated diffuser and a bootlid spoiler.
SEE ALSO: BMW M6 GT3 Street Legal Doppelganger by M&D. Yes, it exists! 
Immediately grabbing the attention is the bespoke foil wrap finish that mimics the US military style. The 'Stealth' wrapping uses a matt white base, on top of which angular elements in Matt Charcoal and Matt Black are combined to form an effective Urban Camouflage. A low-key effect is achieved via bright orange accents, which come out from the monochromatic background.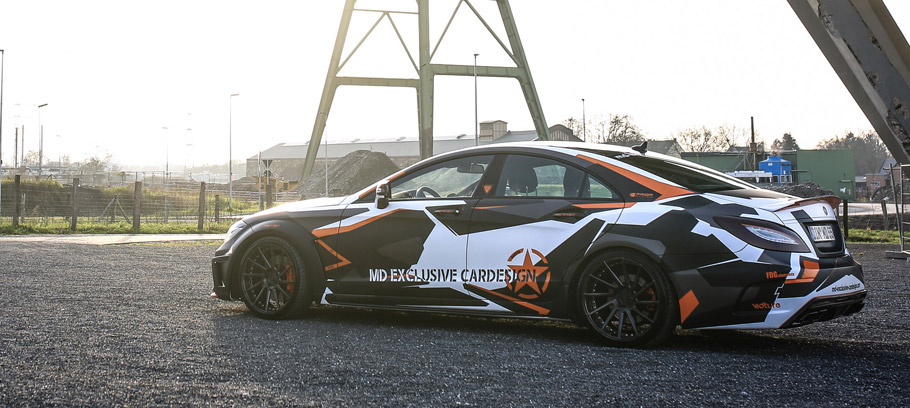 So far, so good. At the rear we see that the diffuser is flanked by the quad exhaust tailpipes that were taken directly from the C63 AMG Coupe Black Series and come in black powder coat. They are also attached to the custom OE exhaust system. And by the way, the V8 sound that comes out from the Black Series tailpipes originates from the bi-turbo 4.7 litre unit with its two-tone engine cover in graphite grey and Lamborghini Orange metallic.
Engine ECU Boost
Custom ECU tuning by M & D was given to the powerplant and the results are impressive. The stock 408 hp (306 kW) output was raised to 498 hp (366 kW), while the torque jumped from 600 Nm (443 lb-ft) to around 740 Nm (546 lb-ft). The top speed limiter was also removed and now exceeds the factory 250 km/h.
Wheels & Suspension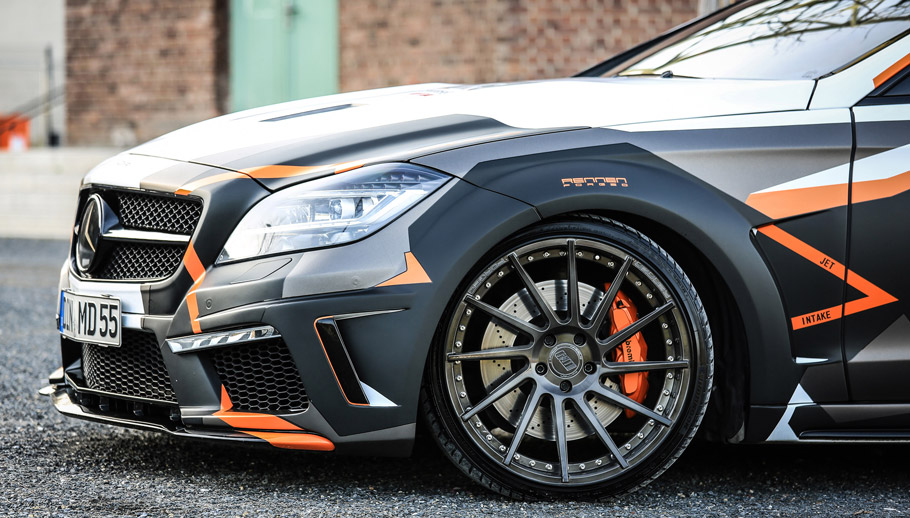 Filling out the arches of the special CLS 500 Black Edition Stealth are the in-house made two-piece Rennen Forged RL17 forged alloys that come in size of 20-inches. They are shod with 245/30R20 and 295/25R20 Hankook Ventus S1 Evo tyres. The rim surface of the wheels features a brushed alloy texture with a unique 'Smoke' paint finish. Behind the wheels spokes appear huge Brembo brake calipers painted Lamborghini metallic orange.  At last, M&D's Airmatic suspension electronic lowering module rounds out this truly unique project.
Source: M&D Exclusive Cardesign