2012 Geneva Motor Show: Carlsson Mercedes-Benz CK63 RS
2012 Carlsson Mercedes-Benz CK63 RS is based on the Mercedes-Benz CLS 63 AMG and carries the powerful V8-Biturbo with added performance package by Carlsson Autotechnik. First, the AMG eight-cylinder engine with a cylinder capacity of 5.461 cm already produces 557 hp (410 kW) at 5,500 rpm and a maximum torque of 800 Nm (588 lb-ft) at 2,000 rpm. However, Carlsson engineers additionally improved the engine and increasedits power to the significant 652 hp (480 kW) with a maximum trque of 1000 Nm of 2,000 – 4,500 rpm, the maximum torque lies at 1,000 Nm (735 lb-ft). This power increase allows the Carlsson CK63 RS to accelerate from 0 to 60 mph in only 4.1 seconds. In addtion, a tailor-made, multi-flow, complete stainless steel exhaust system with downpipes, metal catalysts and front and rear silencers supports the power enhancement and is also fitted with an exhaust damper system.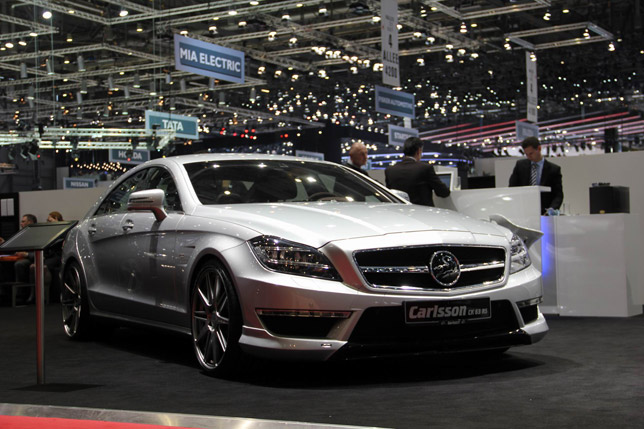 Furthermore, Carlsson has modified the vehicle at the front axle thus making it more agile. The AMG Ride Control sports suspension springs at the front axle have been replaced with Carlsson springs with more progressive spring characteristics. They lower the CLS by 30 millimeters. In addition 1/10-type Carlsson wheels in a stylish star design with single and double spokes embellish the wheel housing of the Carlsson sports sedan. They are with 9 x 20" rims at the front and 10.5 x 20" at the drive axle. More aerodynamic components were featured in the tuning: front spoiler and the RS front spoiler lip, black stainless steel grille inserts, rear spoiler, together with the rear apron insert, integrated Carlsson RS rear diffuser made from real carbon.
The interior of this Carlsson vehicle was made by master-saddlers applying thier traditional hand-craftsmanship. Of course, they have used the finest materials: leather, the finest Alcantara, carbon fiber, natural woods and other exclusive natural materials. A combination of brown Alcantara and mocha-brown Carlsson NAPPA EXCLUSIVE leather wrappes the interior. Moreover, thee interior modification for the Carlsson CK63 RS is eventually finished with details, such as Carlsson foot mats, door sill panels with blue, illuminated Carlsson lettering and door-locking pins made from polished aluminum.
2012 Carlsson Mercedes-Benz CK63 RS has jus been presented in 2012 Geneva Motor Show.
Source: Carlsson