McLaren P1 GTR Design Concept To Debut At Pebble Beach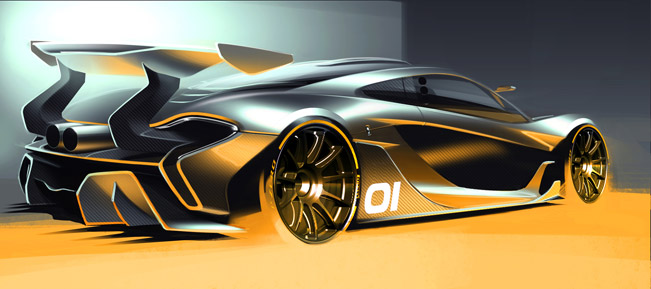 McLaren P1 GTR, the track focused model, was teased more than a month ago, Now the concept is shown in a sketch form, but gives us better idea of what this vehicle will look like. The P1 based GTR concept will be shown at the 2014 Pebble Beach Concours d'Elegance at the McLaren Brand Centre on the 18th Fairway at the Pebble Beach Lodge on 15th August. The public debut will happen at the Pebble Beach Concept Lawn over the course of the weekend.
The car was created as a response to requests from buyers. They wanted the road legal McLaren P1 to have a track focused edition. This new McLaren model will deliver even greater levels of performance, grip, aerodynamics and downforce than the road car.
The car will include big range of technology features and will be driven by a powertrain that is promised to produce an intended power output of 1,000 PS (986 hp). Furthermore, the car will run on race-proven slick tyres and will feature more aggressive and distinctive styling.
McLaren P1 GTR will go into production in June 2015. This will mark the completion of the 375th and final example of the road-legal car, and two decades from the famous 24 Hours of Le Mans win by the legendary McLaren F1 GTR.
P1 GTR has been priced at £1.98 million. Each unit will be individually tailored. The exact number of the track-focused model is still to be determined, but it is certain that it will be strictly limited.
Source: McLaren