McLaren MP4-12C GT3: full details
McLaren MP4-12C GT3 will be the first car from the manufacturer built for FIA GT series racing since the famous McLaren F1 GTR. The iconic F1 finished production in1997. 12C GT3 is based on the new MP4-12C, which is one of the best super sports cars in the world.
"McLaren has racing in its blood and it was a natural step to take our MP4-12C road car and turn it into the most reliable, efficient and easy to drive GT3 car.  Every car on the grid will have its performance balanced by race rules, meaning our objective must be to select a technical specification that ensures any driver is able to access the 12C GT3's performance limit with ease.", commented Martin Whitmarsh, McLaren Group Chief Executive Officer.
The 12C GT3 made its race debut at the UK circuit – Silverstone. Just a week after, the car was sent to the Circuito de Navarra in Spain for its first FIA circuit test. In simulated tests, McLaren GT was able to fine-tune engine calibration, power steering, spring rates, weight distribution, gear ratios and differential settings.
McLaren MP4-12C GT3 comes with a new aerodynamics package, which is made entirely from carbon fibre. It is specially created by McLaren Racing in compliance with GT3 regulations. The body kit includes - a new front splitter, door blade, rear wing, diffuser and louvres in the front fenders.
MP4-12C GT3 has the same 3.8-litre McLaren V8 twin-turbo M838T engine as the road car, but it will be de-tuned to 500PS (from 600PS) in order to provide optimum power for this performance-balanced race car. The car also includes the TAG-400 Engine Control Unit, which is a compact, self-contained engine management system and data logger for race engines designed and built by McLaren Electronic Systems.
Other very important features are the unique engine calibration, bespoke racing transmission developed in partnership with Ricardo and a suspension arrangement tuned specifically for racing.
Check out the specification, below!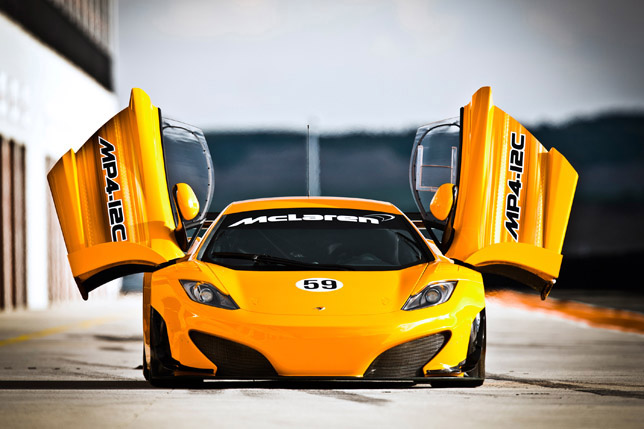 McLaren MP4-12C GT3 Technical Specification:
Width (mm)
1995mm
Height (mm)
1145mm
Wheelbase (mm)
2670mm
Fuel tank capacity
120 litres
Chassis/body
McLaren carbon fibre MonoCell with aluminium front and rear frames and bespoke carbon body panels
Aerodynamics
Front and rear diffuser, front splitter, dive planes and adjustable rear wing.
Transmission
6 speed sequential using actuation via steering wheel mounted paddles

Limited slip differential with a range of ramps and adjustable pre-load.

Wet sump

Sintered clutch hydraulically operated

Driveshafts with tripod joints

Engine type
V8 twin turbo McLaren M838T
Engine capacity
3.8L
Bore x Stroke
93 x 69.9
Max. Engine speed
Limited to 7500rpm
Cylinder block
Cast aluminium , 90 deg V angle, dry sump scavenge, Nikasil coated liners
Crankshaft
Forged steel flat plane
Pistons
Forged aluminium
Conrods
Forged steel
Cylinder head
Cast aluminium with plastic composite cam covers, inlet & exhaust variable cam timing
Valvetrain
32V with 40 deg variable cam timing on intake & exhaust. Low mass with sliding contact end pivoted pinger followers, single variable rate springs and hollow cast chilled iron camshafts
Intake system
Two water/air charge air coolers. Plastic composite plenum.
Exhaust system
Cast stainless steel exhaust manifold with compact MHI fixed geometry turbo chargers.  970 deg C turbine inlet temperature.
Fuel system
Returnless fuel rail with twin fuel tank mounted pumps and twin spray injectors
Engine management
MESL TAG400 ECU & CIU 100

Interfacing with Bosch ABS and Shiftec control units

Wiring harness
Modular installation: Engine, chassis, fuel cell
Lubrication
MOBIL1: engine and transmission
Cooling
Air/water heat exchangers for engine water and charge air cooling combined with water/oil heat exchangers for engine, transmission & PAS.
Front axle
SKF integrated axles with handed single wheel retaining nut
Rear axle
SKF integrated axles with handed single wheel retaining nut
Front suspension
Double wishbone adjustable for ride height camber and toe
Rear suspension
Double wishbone adjustable for ride height camber and toe
Dampers
Coil over Multimatic dampers with DSSV technology with independent bump and rebound adjustment
Front brake system
Akebono 6 piston monoblock calliper

378Ø x 36mm Iron ventilated disc

Rear brake system
Akebono 4 piston monoblock calliper

355Ø x 32mm iron ventilated disc

Steering
Electro-hydraulic PAS
Wheels
Forged Aluminium

Front 12" x 18"

Rear 13" x 18"

MESL TPS system compatible

Cockpit electronics
Multifunction steering wheel with integrated driver display

Central switch panel with systems display screen

Steering wheel
Derived from MP4-24 Formula 1 wheel retaining integrated driver display, paddle shift and switches
Source: McLaren