McLaren 12C GT Can-Am Edition Confirmed For Production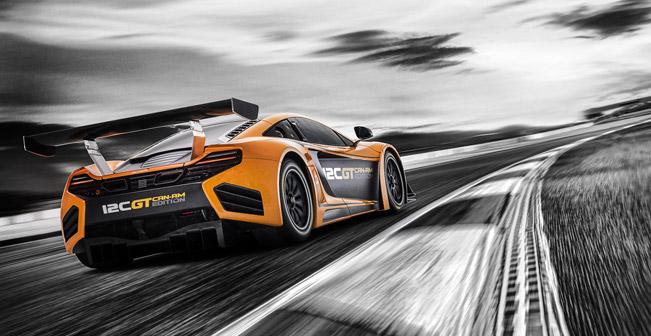 During this summer we have seen some amazing concepts coming out of the dark. One of them was the McLaren 12C Can-Am Edition Racing Concept, which made its debut at the Pebble Beach Concours d'Elegance. Then, the McLaren concept showed off its McLaren Orange and satin black colors.
The successful premiere is now leading to great news: McLaren GT has confirmed plans for a limited production run of the 12C GT Can-Am Edition. The vehicle will pay tribute to Bruce McLaren and Denny Hulme who successfully raced a series of McLaren models in the Can-Am series.
The supersportscar will be produced in 30 examples and will be billed as an "ultimate track car". Each example will be equipped with an unrestricted version of the 3.8-litre twin-turbo V8 engine with a unique engine calibration, and optimized cooling system. All these important details will lead to a power output of up to 630 hp (463 kW). This will make the 12C GT Can-Am Edition the most powerful 12C produced.
The stunning visual stance of the Can-Am Edition will be complemented with large carbon fibre rear wing. The latter is of a unique high downforce aerodynamic package, created with the help of Formula 1 technology and simulation. Therefore, the result is an increase in downforce by 30 per cent.
Se, no contemporary vehicle can go without carbon fibre. Here components this material will increase the styling of the track car. These include door mirror mounts and covers, engine cover vents, side radiator intake vanes, sill covers and badges.
Next, the car must be equipped with great set of shoes. Here, the designers have supplied the McLaren with black satin-finished forged lightweight racing alloy wheels, shod with Pirelli racing tyres.
The carbon fibre MonoCell chassis which we have seen in the 12C and 12C Spider, is also to be seen here. However, this chassis is also fitted with a full FIA-approved race-specification rollcage.
How about the interior of this Limited edition model? Inside one can find two black race seats with full six-point harnesses, and a one-of-a-kind steering wheel. Furthermore, an integrated motorsport air conditioning system is included into the bespoke lightweight carbon fibre dashboard.
With production commencing from March 2013, McLaren 12C GT Can-Am Edition will have a starting price of £375 000 ($596 000).
Source: McLaren