Mazda3 MPS by MR Car Design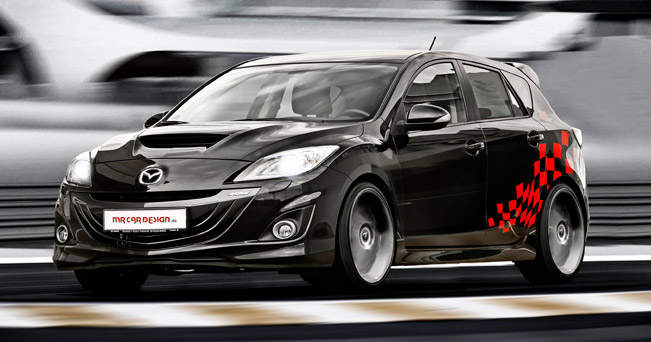 MR Car Design Mazda3 MPS exudes power and attitude. Mazda3 MPS is originally being one of the most powerful series production vehicles with front wheel drive. Here however, we have an aim which successfully has given this vehicle even more strength in horsepower.
The people responsible for that are the specialists from MR Car Design. They have taken this hard task to give the sporting dynamicist even more power. Originally the Mazda is equipped with 2.3 L engine, which includes turbo support.
This means that the vehicle can generate 260 hp (191 kW) and has a maximum torque of 380 Nm (280 lb-ft) at 3,000 r / min. The crew from MR Car Design gave the engine boost in terms of performance via software. Thanks to that the car is able to produce 310 horsepower (228 kW).
Furthermore, a downpipe with or without catalytic converter, and an exhaust system from the downpipe can be mounted optionally. In addition to this another highlight here is the Forge Intercooler, which includes all turbo hoses.
At last, this unique Mazda runs on a set of wheels with Qxigin 14-inch rims in 8,5 x19 and has a KW coilover suspension.
Source: Miranda Media