Mansory Mercedes-Benz G63 AMG 6x6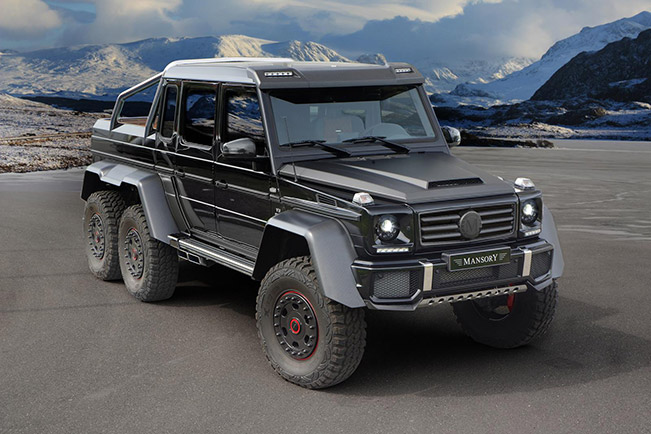 Mansory has revealed their latest project based on the huge Mercedes-Benz G63 AMG 6x6. The SUV comes with both styling and performance upgrades.
The exterior boasts new headlights as well as a modified front hood and grill. There are also some carbon fiber elements like mirror housings, the engine side ventilators, rear skirt as well as the air guide elements of the front skirt.
Mansory can also fully modify the interior by using uses the best, perfect leather, the highest quality Alcantra, flawless fine woods and of course only perfectly produced carbon. In cooperation with the design department, the in house upholstery shop has implemented a carbon design with contrasting elements, which transfers the concept of the exterior to the interior of the vehicle.
The 5.5 liter bi-turbo V8 is completely reworked - new connecting rods, pistons, bearings, cylinder head as well as a new crankshaft and exhaust system. There are also bigger turbochargers and an ECU re-map. The result is decent – 840HP (618 kW) and 1,000Nm (737 lb-ft) of torque – electronically limited. This is an increase of almost 296HP and 242Nm.
Originally, Mercedes-Benz G63 AMG 6x6 is priced at €379,000, but there is no information about the price of Mansory's tuning package.
Source: Mansory