Lexus Offers All-Wheel Drive Performance on its LS 460 and LS 460 L Flagship Luxury Sedans
Lexus has announced the addition of all-wheel drive (AWD) versions of its flagship luxury sedan, the LS 460 and long-wheelbase LS 460 L. The 2009 model year expands Lexus' AWD lineup, making the LS 460 the fourth luxury sedan to offer AWD performance following the IS 250, GS 350 and LS 600h L.
The AWD versions of the LS 460 and LS 460 L will utilize a drivetrain almost identical to their hybrid counterpart, the LS 600h L. The AWD system features a highly compact center TORSEN® Limited-Slip Differential (LSD) that distributes drive torque between the front and rear wheels. In normal driving conditions, the front and rear torque distribution ratio is set at a rear-bias 40:60, but it can instantly and optimally vary between 30:70 and 50:50 depending on driving conditions, thus helping to ensure excellent traction performance and driving stability.
The AWD LS 460 and LS 460 L are powered by a 4.6-liter V8 mated to the world's first eight-speed automatic transmission, identical to their rear-wheel drive equivalent. The AWD versions will produce 357 horsepower and 344 lb.-ft of torque and can accelerate from zero-to-60 mph in about 5.9 seconds.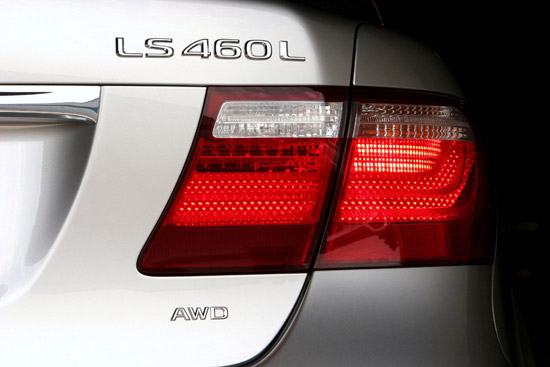 In addition to the luxury, convenience and safety features found on the current LS 460, both AWD versions will come standard with air suspension, Variable Gear-Ratio Steering (VGRS), and Adaptive Variable Suspension (AVS). The computer-controlled AVS system continuously adjusts shock-absorber damping rates to help provide comfort and handling precision. The VGRS system selects the steering gear ratio according to vehicle speed, enhancing responsiveness and driver control. VGRS also partners with the Vehicle Dynamics Integrated Management (VDIM) system, making minor steering adjustments to help improve control during challenging road conditions.
The AWD models will also come standard with 18-inch wheels with all-season tires, a wood and leather-trimmed heated steering wheel and power rear sunshade for added luxury.
The 2009 LS AWD models will be available in dealerships in October 2008.