Kahn Shows Three Sketches of Vengeance Project

Kahn's Vengeance is here! At least in sketches. Yes, the tuning company has released the first three detailed drawings of its exciting upcoming car. As we told you last week, the ambitious project will be based on another British classic, just like the Flying Huntsman based Defender). It will feature tuner's specific WB12 wide body and will be built in Coventry, UK.
In addition, also confirmed today was the fact that the car will be a two-door coupe in "hammer formed aluminium". My guess about the marque was completely right – it will be an Aston Martin, however – not a Vantage, but a DB9.
SEE ALSO: The Vengeance: Kahn Teases New Project
Yes, the coachbuilt car will use as a basis DB9's chassis. The future wide body two-door coupe will have a muscular stance and as we can see from the sketches - aggressive design.
Design
The specialists at Kahn always seek to push the boundaries of design. Project's design is inspired by the 80s and 90s. This means that Vengeance follows the philosophy of volume and flowing curves over angular surfaces. As a result we will see a spectacular mix between old and new, between classic and contemporary design.
The details here are of importance. First, take a look at the widened rear wings, that are highlighted by lines projected from the signature bonnet bulge. And have you noticed the roof and the length of the car?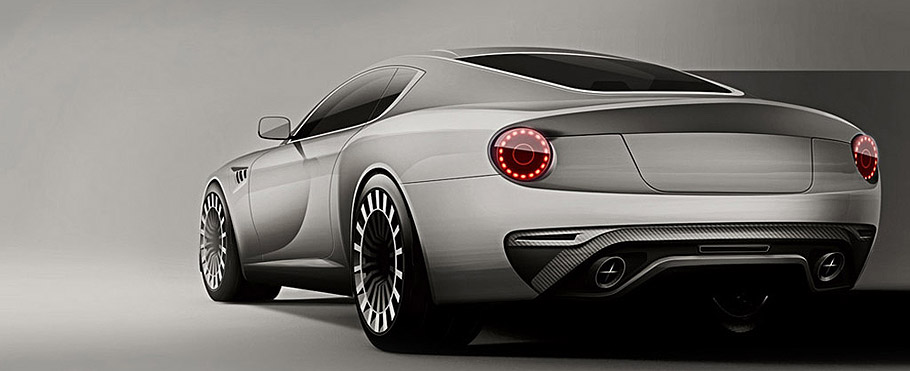 These visual characteristics are further emphasized by the striking front with this aggressive grille centerpiece. The polished stainless steel roof halo and window trim are accompanied by diminished rear windows.
Furthermore, this design treasure will be running on 16 spoke 20-inch wheel at the front coupled with 225 tyres and an 18 spoke 21-inch rear wheels mated with 335 tyres. The wheels are retro-inspired and will also have a two-tone body colour with the diamond cut outer section.
Production
Since there is no information about the interior, the next important question is whether this car will see production. The answer is positive, and it will begin in 2015 with a limited run. What you should also know is that each vehicle will be hand built by Kahn's team of experts and will carry an engraved plaque in the boot.
Source: Kahn Design