Kahn Continues its Strong Relationship with Land Rover with the Introduction of Silver Defender Hard Top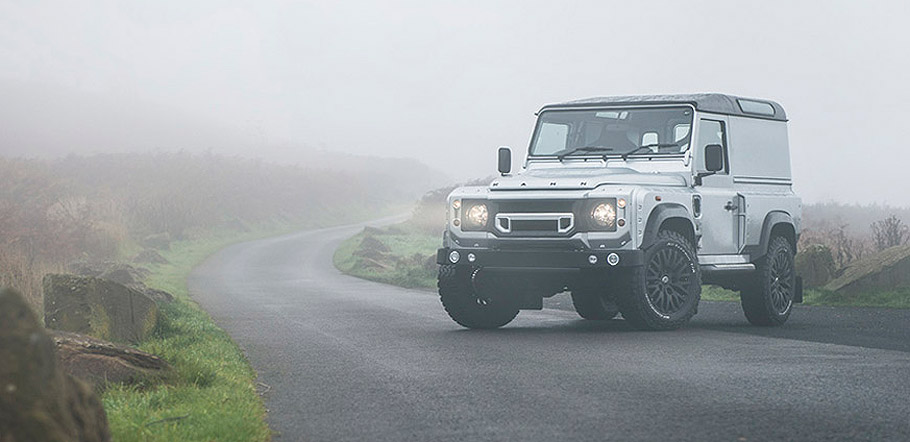 The Silver Hard Top Land Rover Defender by Kahn Design has a brand new photo-session and some additional details that need to be mentioned. In fact, you can even regard it as a reinterpretation of what we have seen a month ago. Chelsea Wide Track was also included in the project, which used as a basis the Defender 2.2 TDCI Hard Top. In other words, this one will wear a full range of Chelsea Truck Company styling upgrades for a more contemporary appearance.
Extras for the Exterior
For easier entry inside the cabin, the tuning experts installed side steps on both sides. In addition, the front and rear received extended wheel arches with exposed bolt apertures, the sides got side and bonnet vents, while the front bumper sump guard was made some how more luxurious.
SEE ALSO: Kahn Releases Silver Land Rover Defender Hard Top CWT 
By the way, the front bumper is fitted with daytime running lights and shadow chrome headlights. They are positioned between the colour-matched X-Lander grille. At the opposite side we see a Chelsea Truck Company spare wheel cover.
The new wheel arches are 'filled' with 18-inch Satin Black 1983 RS Defend wheels coupled with 265/65/18" tyres.
Luxurious Interior

The cabin received a special attention, too. Both the front seats were substituted for more supportive Sports GTB ones trimmed in quilted and perforated leather. The steering wheel bears the hallmark of Kahn's billet touch and there have been added vented foot pedals in machined aluminium for more engaging driving experience. At last, we can't skip the Churchill time clock that was integrated into the dashboard.
Any thoughts?
Source: Kahn Design