Jaguar XJ
The 2008 Model Year XJ revealed today has again raised the standard for luxury cars offering customers a range of visual changes, technological advances and additional features on all models. The flagship of the Jaguar range, the XJ continues to be respected and admired by customers throughout the world. Already renowned for its all-aluminium body construction, state-of-the-art technologies, outstanding craftsmanship and build quality, the new XJ is now even more desirable. Since its launch, the model line-up has been extended to include the XJ long wheelbase, the special edition XJR Portfolio, the XJ armoured vehicle and the recently introduced XJ long wheelbase diesel.
A range of four engines – from the highly acclaimed 2.7-litre twin-turbo V6 diesel engine that offers outstanding performance and economy, through to the mighty 4.2-litre supercharged V8, gives customers a choice of rewarding powertrains. Every XJ has automatic transmission and includes many of Jaguar's latest technical features, and of course craftsmanship and quality are high on the list of attributes.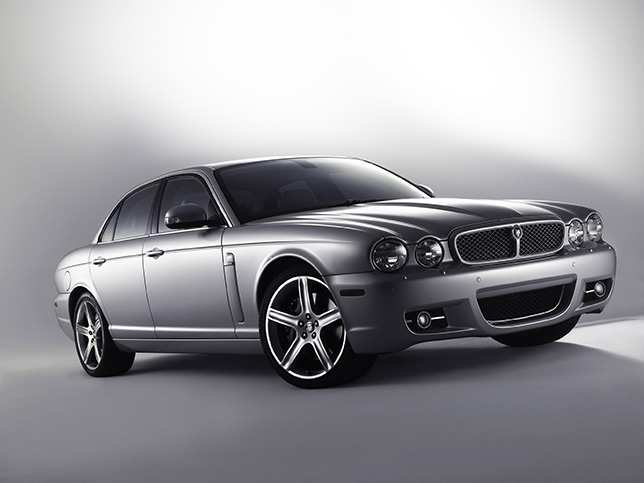 An all-new, distinctive design for the XJ's front includes a new bumper with revised upper and lower mesh grilles and a new Jaguar Growler badge, giving the 2008 model an unmistakably purposeful appearance. This look is complemented by new side power vents to match those introduced on the beautiful XK, lower body sills and a subtle rear aero spoiler. Over the vents new door mirrors carry integrated indicator lights while upgraded alloy wheels add to the sporting appearance of the 2008 Model Year cars. A 19-inch Carelia wheel is now standard on the Executive models, while all Sovereign models now feature the new 19-inch Polaris wheel. The top-of-the-range XJR now comes with aluminium finish power vents and black painted brake callipers. Additionally, customers will benefit from six new exterior paint colours to choose from for all models – Emerald Fire, Pearl Grey, Crystal Blue, Botanical Green, Vapour Grey and Azure Blue.
The 2008 Model Year XJ also enjoys significant improvements to its interior thanks to new heated front seats standard across the range which have been extensively redesigned to offer even more comfort and support. All Executive models now come with a heated front screen as standard while the XJR features an 'R' gearknob as well as heated front seats with air-cooling, an optional choice for the Executive, Sovereign and Sport Premium models. Rear-seat passengers will appreciate greater leg and foot room following revisions to the backs and lower cushions of the front seats. All 2008 Model Year cars feature an upgraded BluetoothTM Connectivity system that allows users to connect up to five approved mobile phones to the car's own in-car telephone system.
UK Managing Director, Geoff Cousins, said: "XJ sales results in 2006 showed a 25% increase versus 2005 and with these specification enhancements, our customers can benefit from an even better value-for-money proposition. The long wheelbase XJ is now available with a 2.7-litre diesel engine making it an even stronger competitor in the ever-growing chauffeur market and even though an all-new Mercedes S-Class has been launched this year, Business Car readers voted the XJ 'Luxury Car of the Year' for the second year running."
Excellent value-for-money across the range
Enhancements to the XJ product range in the UK simplify the line-up to four trim levels, all offering customers improved value-for-money: Executive, Sovereign, Sport Premium and XJR.
XJ Executive (2.7-litre diesel and 3.0-litre petrol) – The entry level to the range will be the 2.7 diesel and 3.0 petrol Executive models. In addition to the other changes being made to the whole range, these cars now feature a heated front screen as standard, body-coloured power vents and 19" Carelia wheels – a ten-spoke alloy first seen on the XK. Importantly the XJ 08MY Executive models remain competitively priced with the 3.0 petrol starting from £43,540 and the 2.7 diesel from £45,520.
XJ Sovereign (3.0-litre V6 petrol and 2.7-litre diesel, 4.2-litre V8) – The Sovereign adds to the Executive specification with 16-way electric heated front seats, soft-grain leather, satellite navigation system and Bi-Xenon headlights. Additions to the 08MY Sovereign models are body-coloured power vents and an all-new five spoke 19" Polaris wheel. The 3.0 Sovereign XJ will be priced from £49,540 – the 2.7 diesel will be £51,520 while the 4.2-litre naturally aspirated XJ will be priced from £58,040.
XJ Sport Premium (2.7-litre diesel) – The Sport Premium benefits from the styling changes across the range with the addition of body-coloured power vents. Adding to the Executive specification, the Sport Premium features 'R' seats with leather seat facings as standard, aluminium veneer, black side window surrounds, Cremona 20" alloy wheels and satellite navigation. The 2.7-litre diesel will be priced from £51,520.
XJR (4.2 Supercharged V8) – Adding to the styling changes across the range, the XJR offers increased value through aluminium finish power vents, a new 'R' logo gearknob, black painted brake callipers and heated front seats featuring a cooling option as standard. The XJR will be priced from £60,150.
Mike Cross, Chief Engineer, Vehicle Integrity commented: "Like the new XK, the XJ is engineered to provide relaxing and refined ride quality, yet can deliver highly capable dynamic qualities when required. The stiff lightweight aluminium structure allows for increased performance and great agility, particularly in our XJR which is a true performance car, yet is inherently quiet, refined and comfortable."
In summary, XJ 08MY provides a series of stylish specification enhancements across the range that deliver an excellent value-for-money proposition for customers.