Single malt Jaguar XJ by Vilner is infused with aristocratism and individuality

Vilner makes substantial interior changes to the 2005 Jaguar XJ
This Jaguar XJ by Vilner has rather strange nick name, "single malt", which as many of you might now is a type of alcohol. But there is a good reason for that, and it is the aristocratic club atmosphere of this XJ. If it is true that the car actually resembles the owner, then the driver of this Jag XJ has high noble traits. But could a car, an object, really say something about its possessor? Let's find out.
The basis of this project is the beautiful 2005 Jaguar XJ with 300 hp (221 kW) and 420 Newton meters (310 lb-ft) of torque. The car has extremely sentimental value for its owner, who not only keeps it in perfect condition, but also takes care for it as a part of the family. At one point however, this wasn't enough and the aristocratic owner wanted to do something more for his Jaguar-jewel. Therefore he contacted the luxury Bulgarian based Art Studio Vilner for help. And he obviously came to the right place.
SEE ALSO: Vilner's latest Suzuki Intruder is the highest possible form of art 
What he wanted was a fine combination of vintage shades, warmth and a hint of the atmosphere of whiskey and cigars club. The aim was achieved with materials of the highest quality: white-striped beige Alcantara as well as soft brown vintage leather.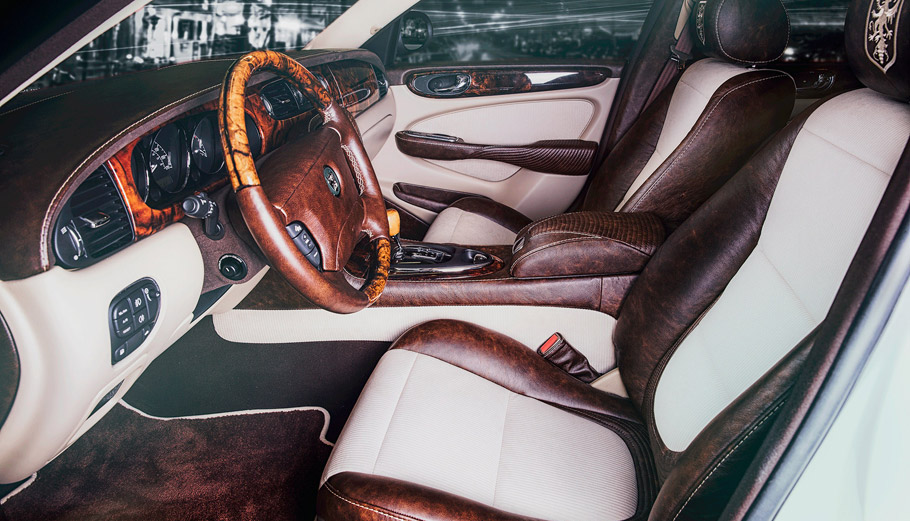 Besides the central parts of the seats and doors, the striped Alcantara upholstery has been given to the transmission tunnel and sun visors. Traditionally, the steering console is made of hard plastic, but now it is reinforced with brown Alcantara. On the other hand, the design theme of the steering wheel, dashboard and almost the entire interior is made of vintage brown leather, stitched with contrasting white thread. Even the plastic mechanisms of the seat belts have been wrapped with the same material.
The owner wanted to preserve all wooden elements, so Vilner incorporated them in their design vision for the XJ. At last, on the headrests you see the embroidery of the family crest, which somehow seems to add uniformity and completeness of this important Jaguar. As a compliment, the studio has created a special bag made entirely in the style of the car, and this tradition seems to become a trademark of Vilner's.
The conclusion: a car can really say a lot about its owner as it has been exemplified with this project. And this is because he has treated the Jaguar not as a useful object, but as a substantial part of the family that has own personality. By the way, the fact that this XJ is in the family for more than ten years speaks a lot.
Source: Vilner