2014 Jaguar XJ Now With Enhanced Luxury Features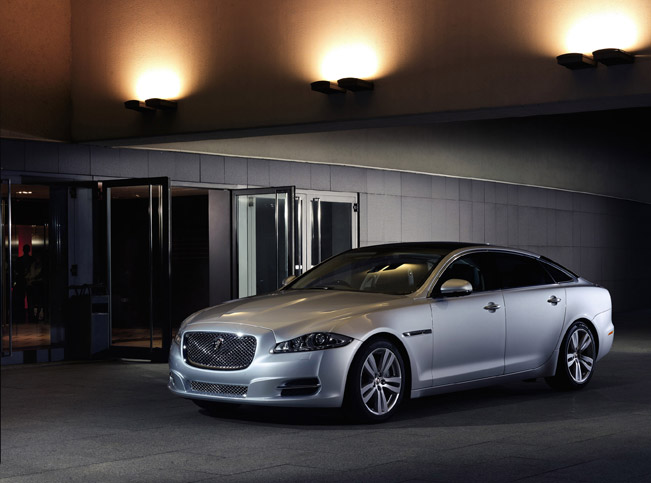 2014 Jaguar XJ is the latest luxurious sports saloon produced by the iconic brand and it includes improved rear cabin luxury features, delivers more comfort and is equipped with in-car technologies. The model will be available with a choice of diesel and supercharged petrol 3.0-litre V6 engines and two supercharged 5.0-litre V8 petrol engines.
Each of them will be matched with eight-speed automatic gearbox thus delivering smooth-shifting, economy and driver control. The new long-wheelbase models will include improved rear cabin luxury options such as 'airline' style reclining seats with massage function, increased headroom and fold-out business tables.
In addition, the re-tuned rear suspension will deliver more rear seat ride comfort. Furthermore, the entertainment system now will include Rear Seat Entertainment options: two hi-resolution touchscreens and premium Meridian Reference Audio System with Conversation Assist.
Throughout the interior are utilized special materials such as Bond grain, soft grain and semi-aniline leather, and versaatile veneers including Piano Black, Carbon Fibre, Gloss Burr Walnut and Satin Rosewood.
The 2014 14 Jaguar XJ 'R' version on the other hand is equipped with bespoke chassis and aerodynamic developments. The car is capable of generating 550 horsepower (404 kW) and 680 Nm (502 lb-ft) of torque thanks to its 5.0-litre supercharged V8 engine. These numbers makes it possible for the XJR to accelerate from zero to 100 km/h in 4.6 seconds on its way to an electronically limited top speed of 174mph (280km/h).
To go further into details, the interior of the 2014 XJ includes a range of enhanced features which are mainly focused on the rear cabin of the car. The rear passenger compartment includes two separate 'airline style' reclining seats that both feature cushion and squab adjustment, three massage programs – Wave/Rolling, Lumbar and Shoulder.
In addition, in the new centre armrest are positioned all the seat controls as well as the Front Seat Activation button. On the other hand, the front seat improvements include massage functions for each seat with five levels of intensity.
What is more, the rear-seat passengers will enjoy many entertainment features included in the Rear Seat Entertainment package. The latter consists of two 10.2" high-resolution screens mounted on the back of the front seat headrests, which can display inputs from a number of sources.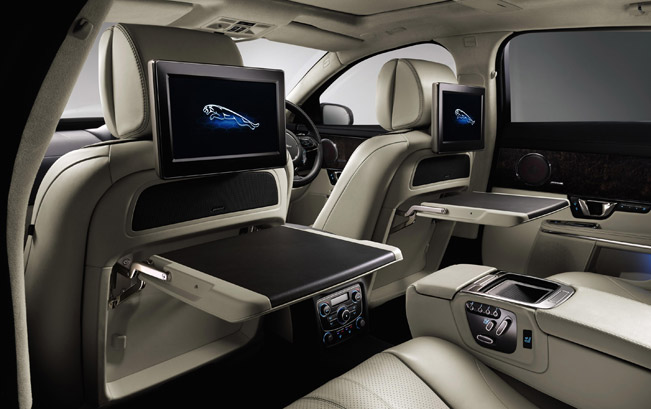 LWB XJ will also deliver to the occupants leather-surfaced business tables in the rear. In order to keep rear seat passengers shielded from the sun, there is available electric rear-side window blinds. Moreover, the rear headroom is increased by 13 mm thus resulting in more comfort for the rear-seat passengers.
Going further to the engine range, the 2014 XJ will be available with powerful and efficient 3.0-litre V6 petrol and diesel engines, as well as two supercharged 5.0-litre units which will deliver 510 hp (375 kW), and in the XJR – 550 hp (405 kW).
A standard eight-speed automatic transmission will be matched to each of them. What is more, steering wheel-mounted gearshift paddles will deliver the driver higher levels of control.
Another technology included in this Jaguar model range is the Intelligent Stop-Start system. The latter utilizes Twin Solenoid Starter (TSS) in order to shut down the engine when the car comes to a halt, and restart it when the driver's foot to move from the brake to the accelerator.
Next, the LWB version of the XJ will include an updated rear suspension for optimized performance. XJ has a lightweight aluminium construction which effects in great advantages in terms of agility, acceleration, braking and driver feedback and involvement.
The exterior color palette has been also enhanced and now consists of 15 colours: Polaris White, Ebony, Ultimate Black, Stratus Grey, Lunar Grey, Rhodium Silver, Cashmere, Osmium Blue, Dark Sapphire, Caviar, Carnelian Red, Black Amethyst, Italian Racing Red, British Racing Green and Satellite Grey.
As an option Jaguar will offer 1300W Meridian™ Reference Audio System and Conversation Assist. The latter uses a microphone above each seating position and digital audio processing technology in order to enhance the occupant's voice via the vehicle's audio system.
Technical Specifications
2014 JAGUAR XJ 3.0-LITRE V6
Engine
3.0-litre V6 SC petrol
XJ 3.0L V6 Diesel
Capacity (cc)
2995
2993
Peak Power ([email protected])
[email protected]
[email protected]
Peak Torque ([email protected])
[email protected]
[email protected]
Transmission
Eight-speed automatic
Eight-speed automatic
Intelligent Stop/Start
Yes
Yes
0-60mph (secs)
5.7
6.0
0-100km/h (secs)
5.9
6.4
Top Speed (mph | km/h)
155 | 250 (electronically limited)
155 | 250 (electronically limited)
Combined Economy (EU mpg | l/100km)
29.4 | 9.6
44.8 | 6.3
CO2 Emissions (g/km)
224
167
2014 JAGUAR XJ 5.0-LITRE V8
Engine
XJ 5.0L Supersport
Capacity (cc)
5000
Cylinders
8
Transmission
8-speed automatic
0-60mph (seconds)
4.7
0-100km/h (seconds)
4.9
Top Speed (mph/km/h)
155 | 250 (electronically limited)
Peak Power ([email protected])
[email protected]
Peak Torque ([email protected])
[email protected]
Intelligent Stop/Start
Yes
Combined Economy (mpg)
24.4
Combined Economy (l/100km)
11.6
CO2 Emissions (g/km)
270
Source: Jaguar