2015 Infiniti QX50 And QX70 - U.S. Pricing Announced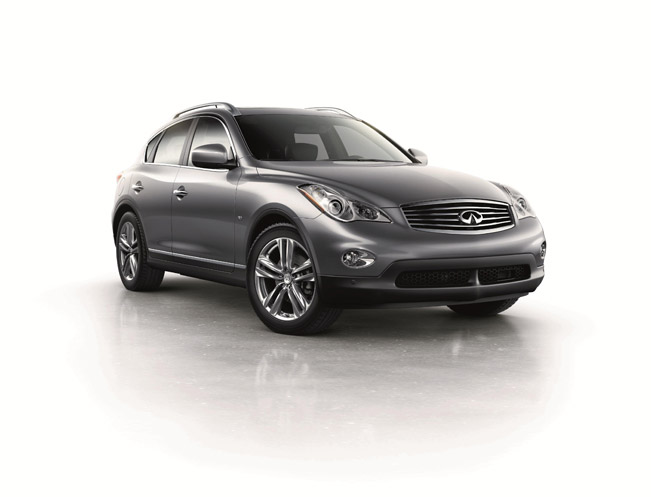 2015 Infiniti QX70 and QX50 are two extremely beautiful and luxury SUVs which are currently available in dealerships across the United States. The QX70 will go to its customers equipped with the 3.7-liter V6 engine, offering a rear-wheel drive and all-wheel drive derivative. In addition, this model also can offer even sportier and luxury exterior and interior due to the available Sport Package. The QX50 on the other hand adds Bluetooth Hands-free Phone as a standard feature on base models.
Infiniti's iconic performance crossover is undoubtedly the QX70. It embodies premium design, craftsmanship, performance and innovative technology in one shell. For the new model year, this SUV will have two variants: QX70 3.7 and QX70 3.7 AWD.
The company is offering four special equipment packages. Precisely, they are the Premium Package, Deluxe Touring Package, Technology Package and the new Sport Package. The last one adds unique dark finish exterior accents, 21-inch dark finish aluminum-alloy wheels, Adaptive Front lighting System (AFS) and climate-controlled front sport seats.
Next, the QX50 offers a sleek, sculpted, elegant exterior design, great driving performance and luxury interior. Unlike its bigger sibling, it will be produced in four variants: QX50, QX50 AWD, QX50 Journey and QX50 AWD Journey.
Each on of them will be equipped with the 325 hp (240 kW) 3.7-liter V6 engine matched with a 7-speed automatic transmission. What is more, the QX50 AWD models will also include Infiniti's Intelligent All-Wheel Drive system and heated front seats. Three special equipment packages come available for this SUV: Premium Package, Deluxe Touring Package and Technology Package.
2015 Infiniti QX70 Pricing:
| | | |
| --- | --- | --- |
| Model | Engine/Drive | MSRP |
| QX70 | 3.7-liter V6 / RWD | $45,850 USD |
| QX70 AWD | 3.7-liter V6 / AWD | $47,300 USD |
2015 Infiniti QX50 Pricing:
| | | |
| --- | --- | --- |
| Model | Engine/Drive | MSRP |
| QX50 | 3.7-liter V6 / RWD | $35,000 USD |
| QX50 AWD | 3.7-liter V6 / AWD | $36,400 USD |
| QX50 Journey | 3.7-liter V6 / RWD | $37,200 USD |
| QX50 AWD Journey | 3.7-liter V6 / AWD | $38,600 USD |
Source: Infiniti