Heico Sportive Teases Custom Volvo XC90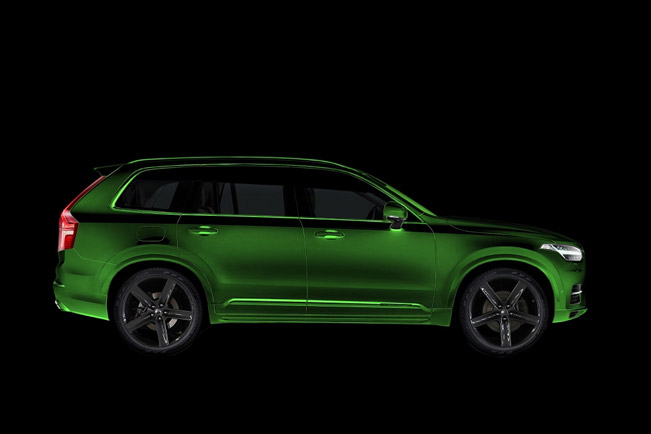 Heico Sportiv Volvo XC90 is a project that we eagerly await. The tuning company has just released the first teaser image of the upcoming customized car and the news that the specialists have already begun developing a comprehensive accessories and equipment features for this Scandinavian premium SUV. Other details haven't been disclosed yet, but we expect this to happen in the coming months.
As we can see from the image, the car is covered in poison green color paint scheme and we also wonder whether there will be any changes in this direction. In addition, the rendering also suggests that there will be a lowered suspension and of course new alloy wheels.
The second generation XC90 was unveiled prior the Paris Motor Show but celebrated its official public unveil there. The market launch of the car is scheduled for May next year. This model is the first Volvo which is built on company's Scalable Product Architecture and in addition it is powered by four-cylinder Drive-E engines.
Volvo is offering a range of petrol and diesel engines. In particular, the gasoline units are the T5, which produces 254 hp (187 kW) & 350 Nm (258 lb-ft), and the T6 turbo- and supercharged engine, which is rated at 320 hp (235 kW) and 400 Nm (295 lb-ft). The diesel powerplants are also two: the D4 with 190 hp (140 kW) and 400 Nm (295 lb-ft) as well as the twin-turbo D6 producing 255 hp (189 kW) and 470 Nm (347 lb-ft).
Volvo has also announced that there will also be a powerful plug-in hybrid version dubbed T8. It offers a combined output of 400 hp (294 kW) and generates 640 Nm (472 lb-ft) from a turbocharged and supercharged 2.0-liter and an 80 hp electric motor. The electric motor alone offers a range of 40 km (25 miles). Other attractive features in the new XC90 are the T-shaped LED daytime running lights and the 22-inch alloy wheels. Inside, the SUV can offer space for up to seven people.
Source: Heico Sportiv