GTA Spano at 2014 Goodwood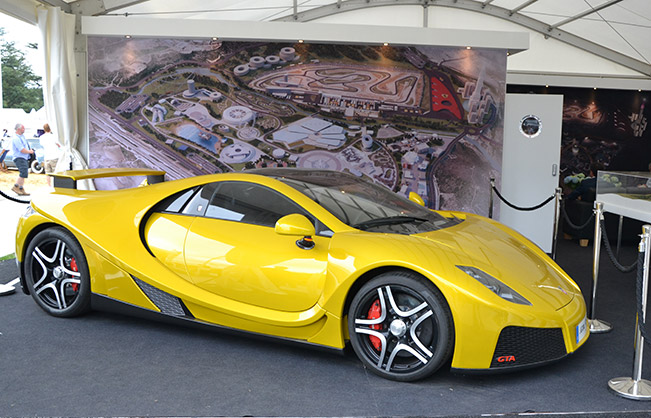 GTA Motor has presented the impressive hyper car – Spano at the 2014 Goodwood Festival of Speed. It is considered one of the most prestigious motoring events worldwide.
The forty best supercars, which are chosen by the Organising Committee took part in this Supercar Run. It includes two two daily hill climbs on the famous course – 2.57 kilometer run in the parklands surrounding Goodwood House. During the 21st edition, GTA Spanoparticipated for the 3rd time running, and was surrounded by great expectation. There were more than 190,000 visitors according to Organising Committee data.
GTA Spano is powered by a 8.3 liter naturally-aspirated V10 engine – 780HP (582 kW) or 840HP (626 kW) using bio-ethanol and 960Nm (711 lb-ft). 0-100 km/h in less than 3.0 seconds and a top speed of over 350 km/h (217 mph). The curb weight is 1,350 kg (2,976 lbs), which means that the power-to-weight ratio is impressive 1.61 kg/hp.
Some of the special features include a set of enormous wheels – 19" at the front fitted with 255/35 ZR19 Pirelli PZero tires and 20" at the rear with 335/30 ZR20. The brake system is provided by AP Racing and include 6-piston calipers with a pneumatic ABS system and carbon-ceramic discs 380 mm in diameter. The chassis is manufactured from carbon fiber, titanium and Kevlar, making it a benchmark in the industry.
The price is an impressive as the car - €692,975.
Source: GTA